[Updated] The Bermuda Police Service partnered with Noble Automotive, Autobahn Accessories and students from CedarBridge Academy to create a 'tribute vehicle' with the goal of highlighting cancer awareness, and the vehicle was unveiled at an event at City Hall this afternoon.
The 14-minute live video replay is below:
A police spokesperson previously said, "The scourge of cancer has had a profound impact on Bermuda over the years and the Bermuda Police Service is not immune to the impact of the awful disease.
"Many of our staff have battled the disease and are now survivors and others have sadly lost their lives to cancer. October and November are two months set aside for cancer awareness. October is Breast Cancer Awareness Month and November is Men's Health Awareness Month with a focus on Prostate Cancer.
"It is to that end that the Bermuda Police Service has partnered with Noble Automotive Ltd., Autobahn Accessories and students from CedarBridge Academy to create a "Tribute Vehicle" that highlights cancer awareness and also pays tribute to Police Officer Latasha Gibson who lost her life to cancer last year."
Update 4.24pm: A police spokesperson said, "At the event brief remarks were provided by Minister of National Security Wayne Caines, Commissioner of Police Stephen Corbishley, BPS Superintendent Na'imah Astwood, BPS Constable Linnell Williams [who suggested the idea], BPS Constable Nigel Richardson [who spoke to men's prostate cancer awareness] and CEO of the Bermuda Cancer & Health Centre Mrs. Lynne Woolridge.
"The custom paint job and artwork on the tribute vehicle – which features cancer awareness logos as well as an image of BPS Constable Latasha Gibson [who lost her life to cancer last year] – was completed by Noble Automotive, CedarBridge Academy students and Autobahn Accessories, all of whom graciously provided their services free of charge.
"Family and loved ones of Constable Gibson as well as members of several government agencies including the Bermuda Police Service [represented by police officers, police staff and Reserve police officers], Bermuda Fire & Rescue Service, Royal Bermuda Regiment, Customs Department, Department of Corrections, Department of Court Services, Department of Child & Family Services, Department of Public Prosecutions and Attorney General's Chambers were all on hand this afternoon to show their support for this important initiative."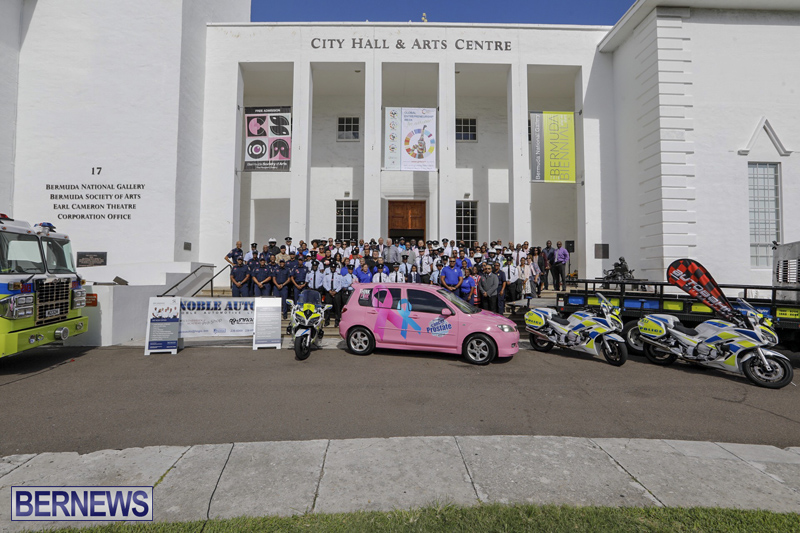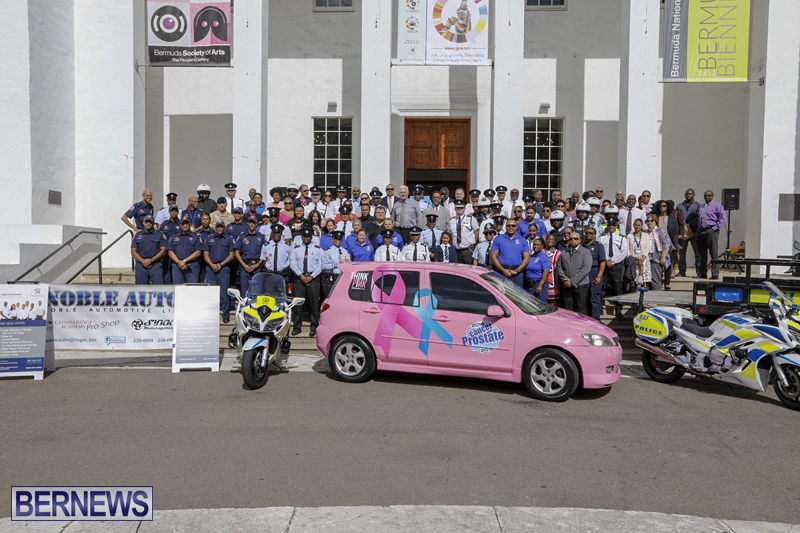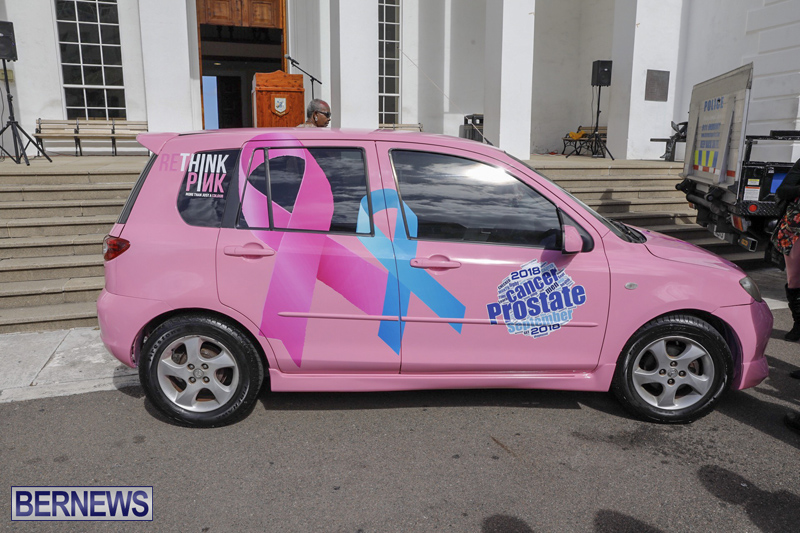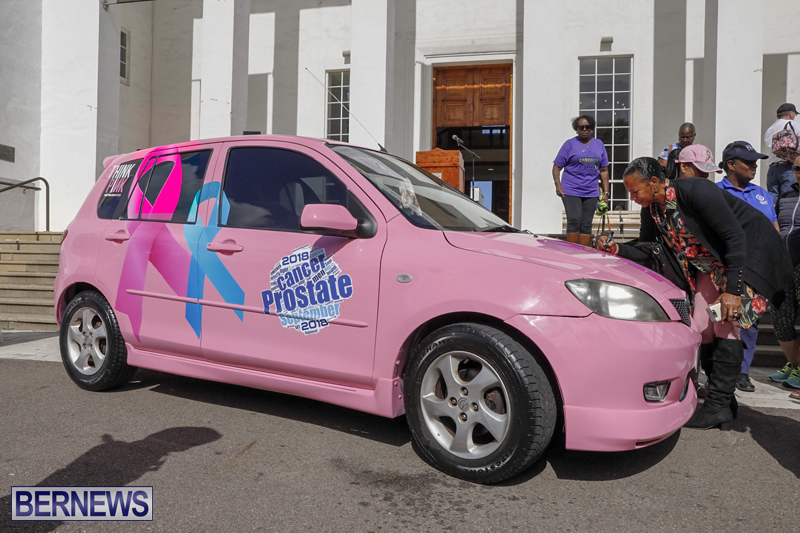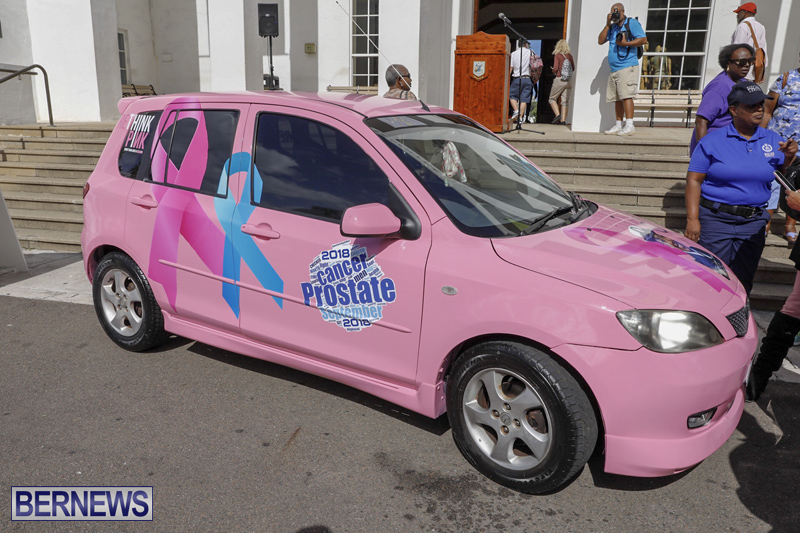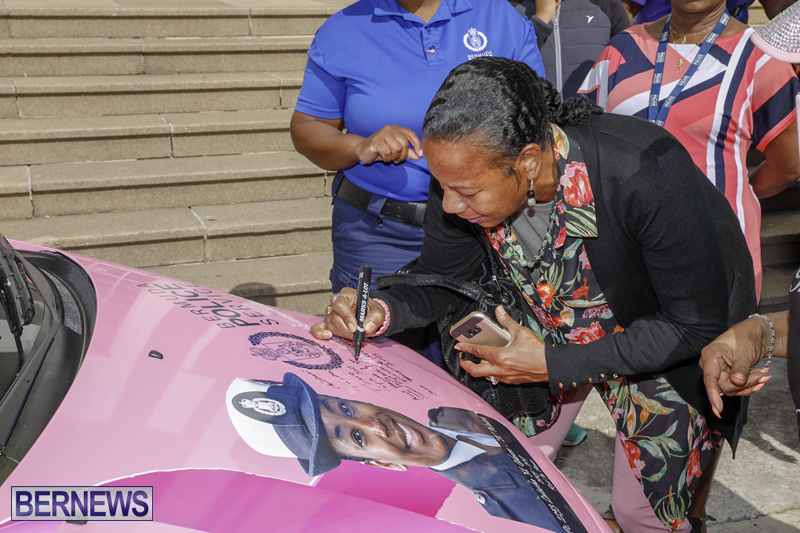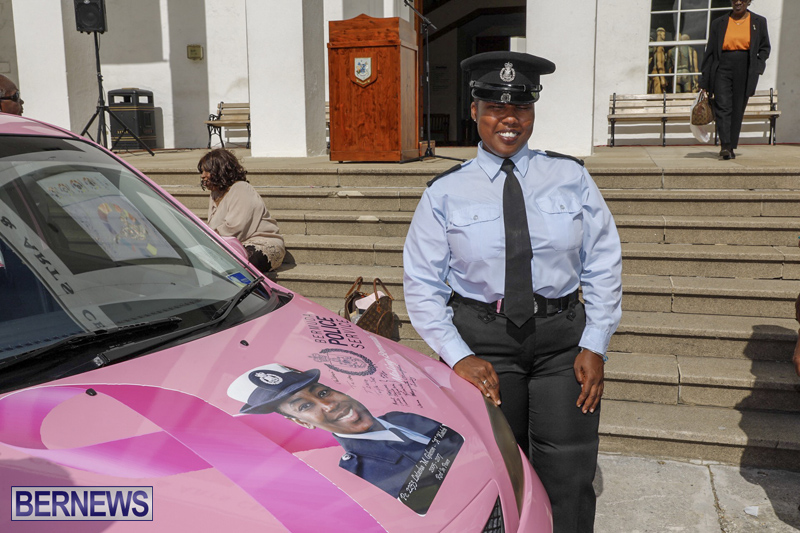 Update Nov 1, 1.21pm: Minister of National Security Wayne Caines spoke at the unveiling and said, "I am honoured to be present at the unveiling of this motor car and would like to thank Constable Williams for her vision to help our community. Breast cancer is a significant illness that effects many women and families. Early detection has the potential to significantly reduce the effects of the illness and I encourage all women to have regular mammograms.
"I also want to speak to men about prostate health. As you know, November is Prostate Health Month and I will share with you my own personal journey. Just over a year ago, I was diagnosed with prostate cancer. Fortunately, was through early detection and a radical prostatectomy that I am now cancer free and can continue living a healthy life. I owe my healing to good medical treatment, early detection, a supportive, loving family and the community.
"I strongly advise and ask that the men in our community who are not typically fond of prodding and having their checkups, go face their fear and get checked. This applies particularly to men of colour as, prostate cancer disproportionately affects us. If you have a history of cancer in your family, you should be checked form age 35 and up. If you are a Bermudian male, a good age to start prostate exams is 40 years of age."
"Again, I would like to thank the uniformed services who are on this day out celebrating life in huge numbers. You are doing our best to encourage early testing and screening."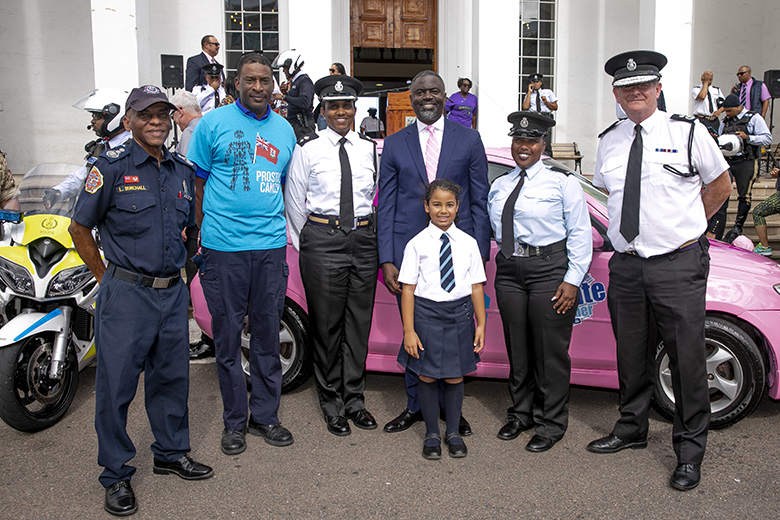 Read More About