The Progressive Labour Party [PLP] will be holding their 2018 Gala Weekend from Friday, November 9 to Monday, November 12.
A PLP spokesperson said, "The Progressive Labour Party will be holding our 2018 Gala Weekend from November 9-12, and invite our members, supporters and friends to join us in celebration.
"Founded in 1963, we are Bermuda's first and oldest political party. This year we plan to celebrate our accomplishments, keeping in mind that there is constant work to be done on behalf of our constituents and the people of Bermuda.
"The weekend will begin on Friday, November 9, when the Speech from the Throne will be delivered, setting in motion the Government's legislative agenda for the upcoming session. This date also marks the 20th anniversary of our Date with Destiny, when the PLP Government assumed the seat of Government for the first time, in 1998.
"On Saturday, November 10, starting at 7:30am, there will be a PLP "Captain's Choice Golf Tournament" at Belmont Hills Golf Club. Prospective participants can register by contacting PLP Headquarters.
"That same evening, Saturday, November 10, we will host our PLP Gala "Wakanda Royalty". Annually, we hold a formal dinner where our members, supporters and friends are given the opportunity to enjoy an evening of elegance. Many will recognise 'Wakanda' from the movie Black Panther; As part of this year's theme we are encouraging our guests to support the many local vendors who sell African inspired attire:
Culturewear – Lynelle Furbert
Royalty African Fashions/Cherina Fashions – Cheryl Darrell
Modestique – Marcia Stowe
Nubian Nook – Rosheena Beek
Touche' Bermuda – Lisa Rivas
"The dinner will feature entertainment by the Wall Street Band featuring Sheila Smith, Violin Sisters & Larrita Adderley, all supported by Pink Sand Entertainment. In addition to the entertainment, attendees will hear messages from:
Dame Jennifer Smith – first PLP Premier [1998-2003], Party Leader [1996-2003]
Patrice Frith-Hayward – Motivational Speaker; Playwright; Radio Hostess
Ms. Renee Morris – President & CEO, Uncle Funky's Daughter
The Hon. E. David Burt, JP, MP –PLP Party Leader & Premier
"This evening promises to be one not to be missed. The Gala gets underway at 6pm for cocktails and dinner at 7pm.
"On Sunday, November 11, Remembrance Day, our celebrations will pause to reflect and remember those that lost their lives in war. Our Leader, the Hon. E. David Burt, our Cabinet, and other MPs will participate in the Remembrance Day Parade and laying of wreaths at the Cenotaph.
"Monday, November 12, will be dedicated to Community Service, and members of the party will be called to assist in community service.
"We hope that our members, supporters and friends will come out and participate and celebrate with the Progressive Labour Party. Your support and encouragement means the world to us and you are appreciated."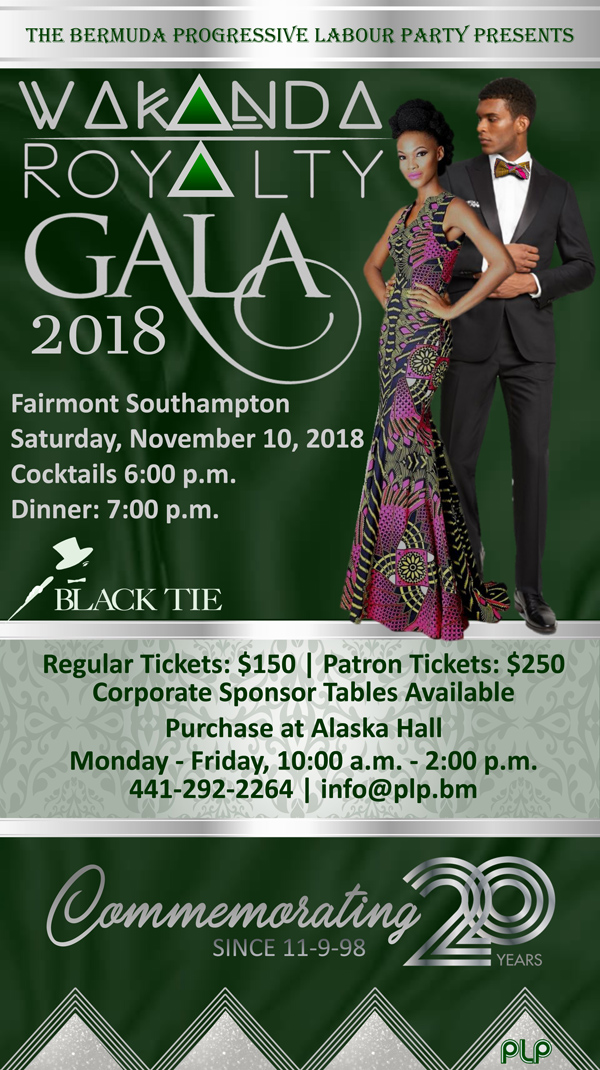 Read More About
Category: All, Entertainment