Soldiers on guard duty at a telecoms complex as part of a security exercise got a visit from Governor John Rankin today [Oct 18].
Governor Rankin, Commander-in-Chief of the Royal Bermuda Regiment, toured the Link Bermuda site in Devonshire's Middle Road as more than 30 troops practised around the clock guard duties at key points in the event of disaster or civil disturbance.
Private Kyle Furbert, 26, who completed January's recruit camp, said: "It's been a good experience overall."
The 26-year-old office worker from Hamilton Parish added: "I'm trying to apply what I've learned so far to get the most out of it and learn as much as possible."
Pte Furbert said the round-the-clock guard duty had challenged the troops, but that they had risen to the occasion.
He said: "I haven't had much rest, but I have to be able to perform."
Privates Kyle Furbert and Essa Melakot on partrol at Link Bermuda as part of a security exercise.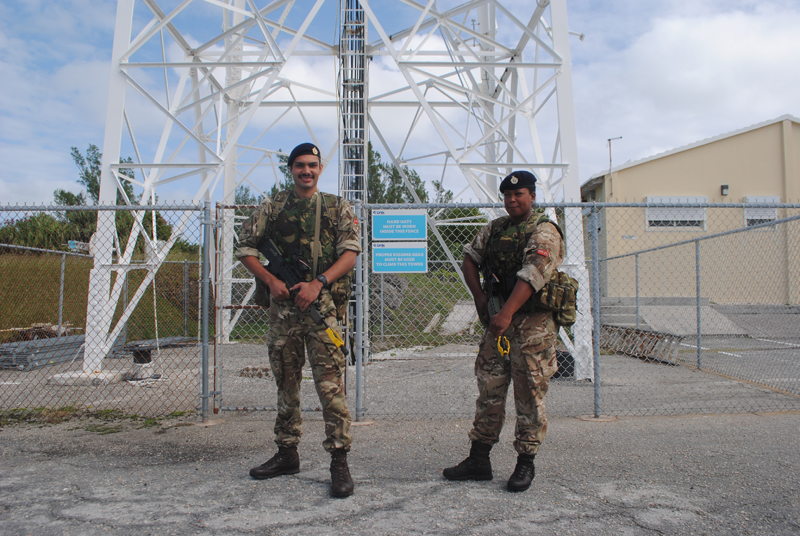 Private Essa Melakot, 37, added that the troops had also carried out vehicle checks and mobile patrols of the area around Link.
She said: "I've enjoyed it. This is a repetition of our training so we can see our weaknesses and improve."
The exercise involved other soldiers from the RBR posing as motorists prepared to argue with the soldiers on guard duty.
The BAS Serco employee from Warwick said: "We've had scenarios where they drove up to the gate aggressively and demanded entrance."
She added: "Internal security is an important part of the Regiment's role and we want to do it as well and as professionally as possible."
Sergeant Peter-Paul Taylor, a platoon sergeant for the exercise, said: "They've all done very well. It shows they have been paying attention in their lessons and applying it.
Governor John Rankin tours the RBR security perimeter around Link Bermuda with Regiment Commanding Officer Lieutenant Colonel David Curley [left] and Captain Gordon Emmerson.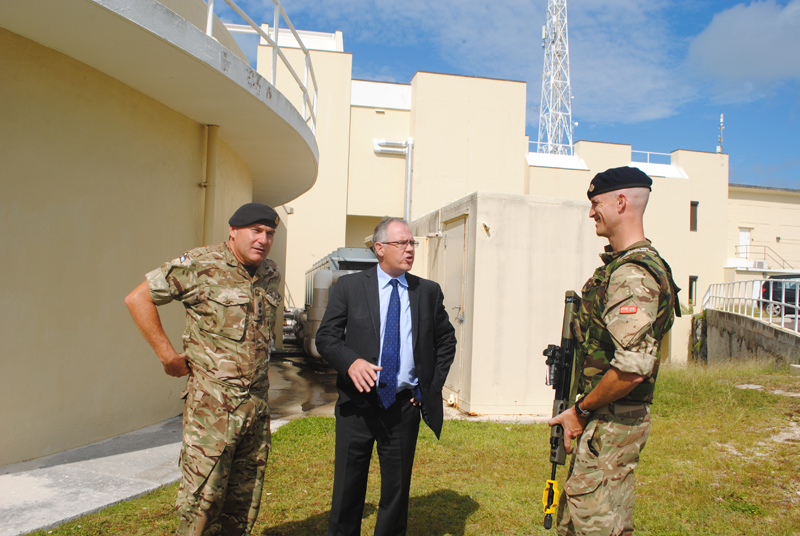 "The training exercise is out in the public eye and they have really shown their professionalism. They've got up to speed really quickly."
Captain Gordon Emmerson, the senior officer, added: "We're looking to ensure that we're a force for stability and able to support the civil authority in returning the island to normality as fast as possible."
He said that Link's subsea cable was a major communications connection to the outside world.
Capt. Emmerson added: "We're very grateful to the staff at Link Bermuda for allowing us to use their space. This site is a listed as a key point for the island, so it's natural that it's somewhere we would need to protect in the event of an emergency."
The exercise was the second part of a two-week on-island training camp, organised instead of the annual overseas exercise, which was cancelled to help fund the establishment of an RBR-manned Coast Guard operation based in the West End.
The soldiers, all from A Company, earlier took part in beach landing and vessel search training with soldiers from Boat Troop, who have been carrying out their own training in areas like port security and oil spill containment.
The RBR Band and Corps of Drums played at Warwick Academy, the Whitney Institute, Saltus Grammar School and rehearsed with the National Youth Orchestra at CedarBridge Academy, as well as practising their own security duty as guards at Warwick Camp.
Governor John Rankin watches troops patrol the Link Bermuda site with Sergeant Major Jason Harrell [left] and RBR Commanding Officer Lieutenant Colonel David Curley.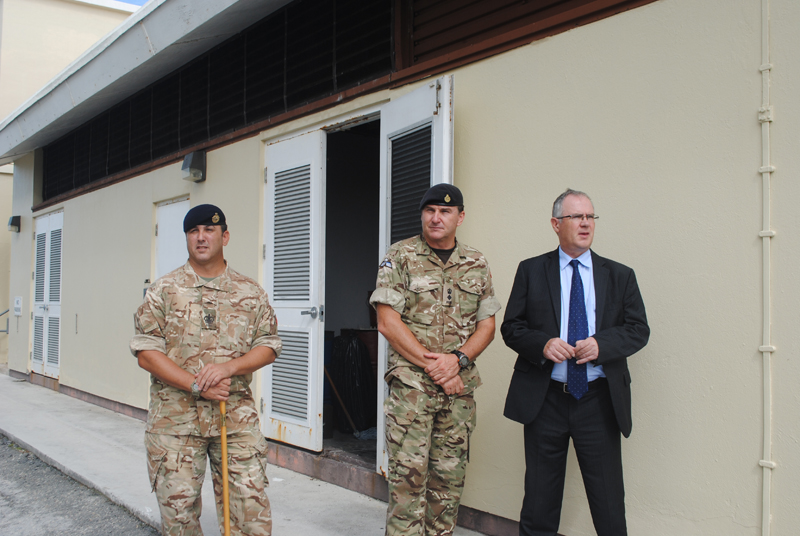 Mr Rankin said the soldiers' efforts would "allow the infrastructure of the island to continue to operate as part of the Regiment's overall role in providing for the security and defence of the island."
He added: "I've been impressed by the effective planning and training I've seen on the ground today."
Lieutenant Colonel David Curley, Commanding Officer of the RBR, said: "Security is one of our key missions. It's very good to see all the proper routines in place over a period of three days and see their performance at the very top level."
Shane McDonnell of Link added the firm would throw a barbecue for the soldiers today [FRI] to thank them for their work.
He said: "Safety and security is a fundamental part of our business continuity service through our military-grade data centre.
"Having the Bermuda Regiment on site this week as part of our key point facility designation helps us to be prepared in the case of an emergency and further reiterates our commitment to being the most secure data facility and network available on the island.
"The collaboration between Link Bermuda and the Regiment is long-standing and it is always a pleasure to work closely with individuals who serve the wider community."

Read More About
Category: All, News, technology