[The fourth profile in a series by the TechAwards Committee highlighting past winners]
Three-time winner First Atlantic Commerce [FAC], a provider of online payment solutions and international credit card processing for merchants, banks, and partners all over the world, was recognised in 2007, 2012, and 2017.
First Atlantic Commerce [FAC] is a leading global, online payment solutions provider. FAC provides merchants with multi-currency payment solutions, tokenization services and PCI validated Point to Point Encryption solutions.
The 2007 TechAward was for FAC's product Verified by VISA and MasterCard SecureCode™ designed to reduce credit card fraud for online merchants in Mexico and Latin America.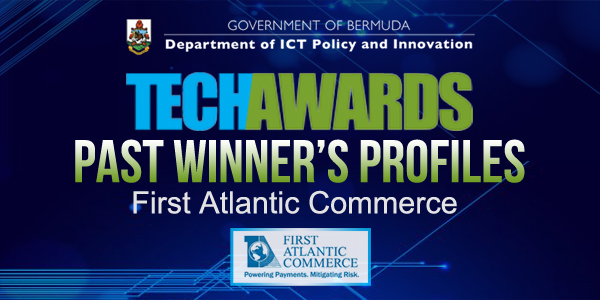 In 2012, FAC won a TechAward for its Payment Gateway which allows merchants to lower PCI-DSS costs, protect data and improve overall transaction security. And just last year, FAC won the 2017 TechAward for a PCI-Validated P2PE Call Center Payment Solution for companies in Latin America Caribbean, further enhancing this new offering across Central America.
This expanded the company's current bank card processing offering to companies and banks in Europe, Mauritius, the US, Canada, Panama, Bermuda and across the Caribbean, and positions FAC as the most well-connected gateway in the Central American and Caribbean territories.
The Department of ICT Policy and Innovation is reminding the public that the deadline to nominate their favorite local technological innovation for Bermuda's annual TechAwards is Friday 26th October.
To nominate individuals in four specific categories before 26th October go to techawards.bm:
1. International Innovation of the Year;
2. Local Innovation of the Year;
3. Most Innovative Youth Product of the Year;
4. New Mobile Application of the Year.
- Nominations for the 2018 TechAwards close on October 26, with the awards to be presented on November 1.

Read More About
Category: All, Business, technology