Karin Housley — the Republican candidate for the U.S. Senate from Minnesota — has accused her Democratic opponent Tina Smith of allegedly 'hiding her money in a Bermuda tax shelter' in a new campaign ad.
Ms Housley is challenging Senator Tina Smith, Minnesota's former lieutenant governor, who was appointed to fill the Senate seat vacated by Al Franken, who resigned amid allegations of sexual misconduct in December."
The Republican candidate's website states, "While Tina Smith has called for closing corporate tax loopholes that allow businesses to 'shelter income,' her financial disclosures show an investment between $500,000 and $1 million in a hedge fund called the Pine Grove Offshore Fund, a notorious tax haven located in Bermuda."
However according to a report from CBS Minnesota, the "ad falsely makes the claim that Smith 'hid her money in a Bermuda tax shelter," saying that "in fact, it is Smith's husband, Archie, not Smith herself, who owns the Pine Grove hedge fund investment included in an IRA."
The video depicts two people sitting in a beach, which is clearly not Bermuda judging by the tan/brown sand, sipping drinks, as text shows across the screen.
Ms Housley, who has come under fire for once comparing former First Lady Michelle Obama to a chimp, has also tweeted about Bermuda on at least two occasions, one is shown below, and the other tweet she posted a photo and said "This is as close to Bermuda as I've ever been."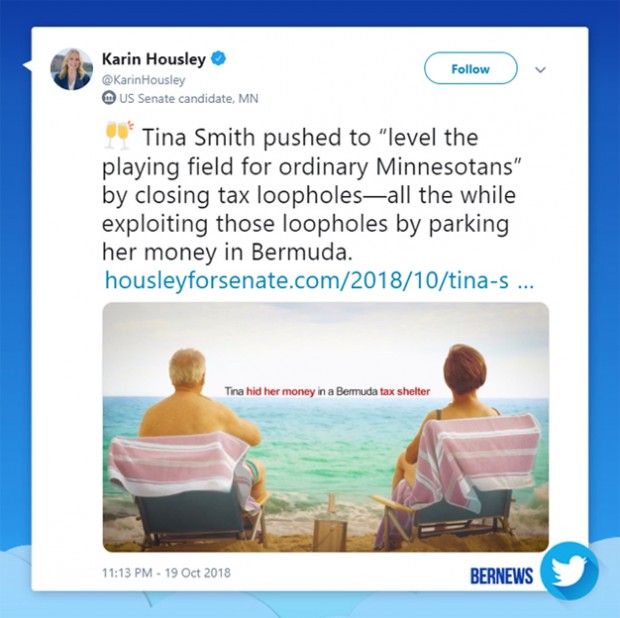 This is not the first time Bermuda, and other offshore jurisdictions, have been brought up during U.S. elections, with President Barack Obama's campaign targeting Republican candidate Mitt Romney's connection to a Bermuda company in the 2012 election, and both Senator Bernie Sanders and Hillary Clinton mentioning Bermuda during the Democratic primary of the 2016 U.S Presidential Election.
The U.S. midterm elections will take place November 6, 2018, with American voters set to elect members of the House of Representatives and the Senate.
Read More About