The Bermuda Environmental Sustainability Taskforce [BEST] and Bermuda College are getting set to hold the third presentation in their series of Eco Lunch & Learns on Thursday, November 29, with Amaris Wharton to speak at the event.
A spokesperson said, "Amaris Wharton, a laboratory technician in the Plant Protection Department at the Department of Environment and Natural Resources, will be presenting on 'The State of Bermuda's Food Security'. Amaris will explain what food security is and how it pertains to Bermuda and its population.
"Amaris graduated from Western University in 2016 with a Bachelor of Arts degree specializing in Geography. She then pursued her Master's degree and graduated from the University of Edinburgh with a Master's of Science in Environmental Protection and Management."
Kim Smith, Executive Director at BEST, said, 'We are encouraged to have Amaris Wharton working in the environmental arena in Bermuda and presenting for us on a critically important topic for Bermuda. It is concerning to BEST that there is no longer enough agricultural land to sustain our population. The issue of Bermuda's food security was the subject of Amaris' Master's thesis."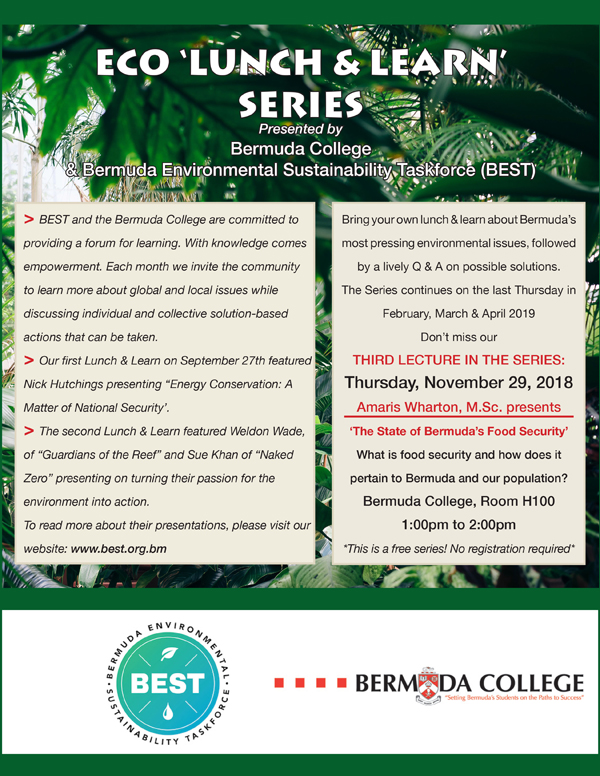 "Amaris says she has 'had a love for the environment since she can remember'. Her high school geography teacher, during her time at Saltus, was the reason she chose to further her studies in the subject. Her teacher opened her mind to the possibilities of geography and where it could take her and solidified her decision to acquire a degree in the subject."
Amy Harvey, the Earth and Environmental Science lecturer at the Bermuda College, said, "As a more economically developed country we often take for granted our food supply and reliable access to it. However, with the increasing effects of climate change that could potentially increase the strength and frequency of hurricanes in Bermuda food security is a major concern.
"As an island nation that heavily depends on imported goods we have felt that unease of limited supply during natural disasters such as Hurricane Fabian. We need to support our local farmers and ensure we have a next generation educated in agricultural science. We need individuals to be more connected with where their food comes from and knowledgeable about how to grow our own where possible."
"BEST and Bermuda College invite the public to bring along their own lunch and learn more from Bermuda's young and enthusiastic environmentalists on how they too can make a difference in addressing the environmental issues affecting Bermuda today. This is a free event and no registration is required. The event is held at the Bermuda College, in Room H100 from 1.00pm to 2.00pm.
"The Eco Lunch & Learn series continues on the last Thursday of the month during February, March and April 2019. For more information, please visit BEST's website."

Read More About
Category: All, Environment