It's Scorpio season and, as such, One Life Sound in sponsorship with YouthVision Promotions and EvrFwdDigital are again providing the annual Scorpio Birthday Affair at Bailey's Bay Cricket Club for the entertainment pleasure of all 'scorpians and scorpetes' and all other members of zodiac wishing a great time of music and dance on Saturday, November 10th.
"Purevenom Volume 5, A Dirty 30 Edition offers Bermudian dance-hall at its finest with One Life Sound at the helm along with DJ Sheep, Fresh Kid and Jim Brown providing the freshest reggae beats and sound to move the body in motion and swing," a spokesperson said.
"For YouthVision the sponsorship endorsement is to support collective community activities to stimulate relationship building.
"We support member organisations that operate in similar spheres with an active motivation to enable relationship building throughout all sectors of the varying communities. Mr. Trott is a friend of mine who definitely has an eye towards providing positive functions for young people and we support these efforts."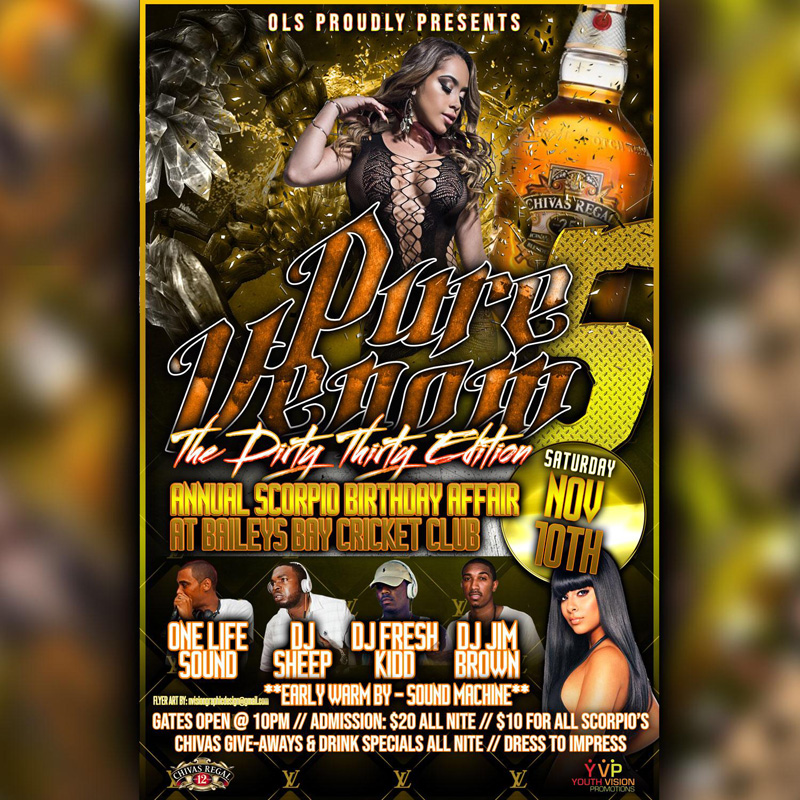 Meanwhile, One Life Sound lead man Mr. [Kearon] Trott, echoed the sentiments, saying that the event at the Sea Breeze Oval club would provide a safe zone of fun entertainment.
"We're about community of course and we're simply looking to provide a positive outlet medium for black youths to enjoy themselves in a safe environment and bringing people together for some good music and 'ting," said Mr. Trott, eager to celebrate the annual event he started five years ago.
"I'm a young black man who works hard and knows the need to unwinds and have fun in safety and that's what we look to provide in this instance.
"We at One Life Sound have a mission to aid our community with just one part of that being with music."
On the night Black Lion will also be featured while the early warm has Sound Machine with Skinny Paul alongside laying down the foundation for the dance. Gates open up at 10 p.m. on the night, with $20 admission being asked of all those not of the Scorpio sign, and Scorpios paying $10.

Read More About
Category: All, Entertainment, Music