Government House will be the venue for a Beacon Lighting Ceremony this Sunday [Nov 11] in commemoration and remembrance of the end of World War One and of those who served in that conflict.
"The ceremony will take place on the North Shore Lawn between 5 and 6.15 pm and all guests are asked to be on-site by 4.45pm. The event is open to the general public with parking on site at Government House and overflow parking at Ducking Stool Park. Entrance will be via Langton Hill and exit via the North Gate," a Government House spokesperson said.
Pictured below, with a Bermuda flag placed beside it, is the grave of Mr. S. S. Swan, a Bermudian who died in WWI and is now buried Etaples, France: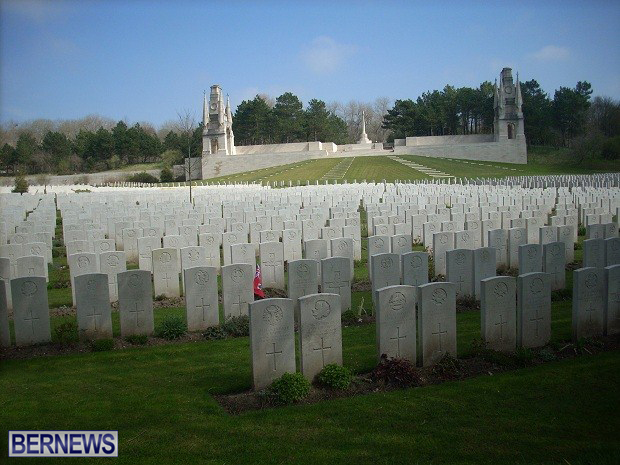 "A recorded total of 544 Bermudians served in World War One. These brave soldiers came from the Bermuda Volunteer Rifle Corps, the Bermuda Contingent Royal Garrison Artillery [formed from the Bermuda Militia Artillery] or joined the Allied Forces independently.
"Of those 544 Bermudians, 53 were killed in action; 15 were wounded; 14 were taken prisoner of war; 4 were missing in action and 19 died of disease or wounds."
Governor John Rankin said: "Our beacon lighting ceremony will be part of a much larger event taking place across the United Kingdom and our sister Overseas Territories plus the Channel Islands and the Isle of Man. The beacons will symbolise the 'light of hope' that emerged from the darkness of four years of War, 1914 – 1918."
Pictured below, with a Bermuda flag placed beside it, is the grave of Bermudian J. Mussenden, who died during WWI at age 20, and is buried in in Porperinghe, Belgium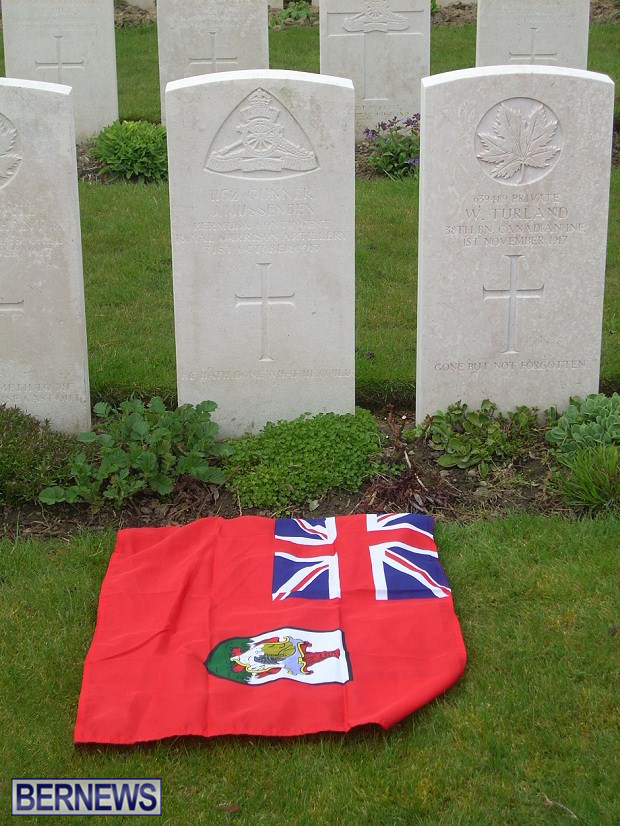 "I would encourage everyone, both young and old, to come out on Sunday evening and join me at the beacon lighting," the Governor said.
"It is an opportunity for us to remember and honour those brave Bermudians who fought in the 'War to end all Wars', including those who made the ultimate sacrifice in order that we can live the lives we lead today with the freedoms we enjoy."

Read More About