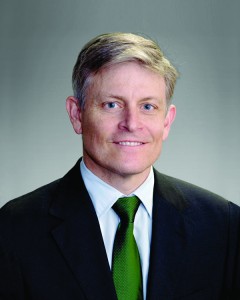 Conyers Dill & Pearman is celebrating 90 years in business today [Nov 1], with the well known law firm having been founded back in in 1928 by Reginald Conyers, Bayard Dill and James Pearman.
"Conyers is truly a home-grown success story. It has come a long way from its origins of three attorneys and two secretaries in Bermuda in 1928, growing organically through the years to 542 staff in six offices worldwide in 2018," said Christian Luthi, Chairman.
"As we look back over our history, I am conscious that we owe an enormous debt of gratitude to our many loyal clients and all those partners and staff whose vision and hard work made Conyers the successful international law firm it is today," he added.
"I am confident that the next decade will continue to see our firm strong and thriving. We have a highly skilled team who work hard every day to ensure that Conyers is synonymous with excellence in client service, as well as a great place to work. We can also take pride in the important role our firm and its people continue to play in the communities in which we operate."
Conyers Dill and Pearman was established in 1928 when Reginald Conyers, swamped by the conveyancing work associated with the foundation of the Bermuda Railway, took into partnership two younger lawyers, Bayard Dill and James Pearman. All three went on to become prominent Bermudian businessmen and politicians and they were each subsequently knighted.
"The catalyst for the firm's international development, which began in the 1950s, was David Graham, a lawyer who saw the opportunities that a tax-neutral Bermuda domicile could offer to international companies and wealthy families," the company said.
"In the past nine decades, Conyers attorneys have played a role in helping to formulate the progressive corporate legislative framework that has made Bermuda a leading offshore financial centre, which has served as a model for other jurisdictions.
"The firm formed the first offshore exempted company in Bermuda in 1947, incorporated the first modern captive insurance company in 1963 and was in the vanguard of the development of the offshore investment funds industry. Its professionals worked closely with the firm's clients and industry partners in leading the development of alternative insurance structures in Bermuda.
"Today, Conyers is recognised as a leader in offshore corporate, private client and trust law, litigation and restructuring, and client services. The firm has extended its international reach over the decades in order to better service its clients, opening a Hong Kong office in 1985, offices in the British Virgin Islands, the Cayman Islands and London in the 1990s, and a Singapore office in 2001."
In Bermuda, Conyers is one of the island's major employers with 255 staff, 89% of whom are Bermudian. The firm takes its community responsibilities seriously, having donated millions over the years in legal scholarships to support successive generations of young Bermudians entering the legal profession, and to local charitable organisations.
Read More About