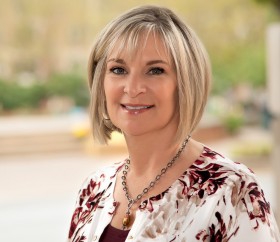 Brenda K. Reynolds is the best-selling author of "TBD – To Be Determined: Leading with Clarity and Confidence in Uncertain Times" and the creator of the "Now What?" Transformation Clarity Card Deck, a tool for anyone wanting to move through a transition meaningfully, mindfully and positively.
The TEDx speaker, Vistage presenter and frequent radio guest will be the keynote speaker at the upcoming Designed for Impact event to be held on November 30 at the Fairmont Southampton Resort & Spa. Ms Reynolds has helped Fortune 500 corporations and national non-profits navigate change. After experiencing her own personal life going sideways in 2008, she is passionate about helping her audiences answer the one key question that trips them up during times of change – "now what?".
Here she gives readers some insight into how she navigates life's changes.
What's the last book/essay/news article you read that really got you thinking and why?
"The Year of Yes," by Shonda Rhimes. It's written like she was my new best friend. And while I'm not shy, it got me thinking about all of the things I might say no to out of fear, without even realizing it. So, on my quest to say yes more often this past year, I've taken the TEDx stage, unexpectedly scored a rare ticket to the Broadway performance of Hamilton, presented at a conference of my peers, and saw Elton John in concert. And each one has created a special memory and inspiration to keep saying yes.
What's the best advice you've ever received?
At a time when life went sideways, and I had just delivered some difficult news to my 6-year-old son, he looked at me and said, "it is what it is, Mom, but it doesn't have to be bad." I call him my Yoda. It became a life mantra for me. Situations are what we make of them.
What has been one thing that has happened in your life that has defined who you are today?
I was raised in a very small town in central Pennsylvania to very young parents. Life was simple and my beginnings were humble. I used to feel less worldly and less sophisticated or smart as a result. But I now cherish an upbringing that instilled values of family, gratitude for the small things in life, acceptance of others, and working hard to make a difference.
To buy tickets for the Designed for Impact Event and Women's Marketplace, visit www.iamdfi.com.
Read More About
Category: All