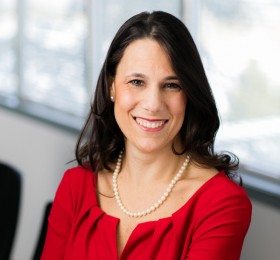 As a certified Gallup Strengths Coach, Heather Kay is one of four featured Session Speakers at the upcoming Designed for Impact [DFI] event taking place on November 30 at Fairmont Southampton. She creates Strengths-based culture at the organizations that she works for, which identifies the key strengths to being an effective leader. She will bring her seven years of working with the Strengths philosophy to attendees of DFI.
Here she gives readers some insight into how she manages her work/life balance.
How do you balance your work/life?
I come to work at 8 a.m. and leave at 4.30 p.m. most days – not all. When I'm done with work, I'm done. I very rarely get back online as I want my team to know that there needs to be a separation and if I don't follow it, they won't.
What has been one thing that has happened in your life that has defined who you are today?
Obtaining the Strengths knowledge. Knowing that I [and others] have potential and if we follow what we're naturally good at, we'll be more successful. It's helped me in deciding what jobs to take, what projects to work on [and how I work on them], being a better parent [my kids both know their Strengths] and spouse.
How can women feel more empowered in their life/work/home?
Ask for help!! Your spouses and kids are capable even if they pretend not to be. We can't do it all, and we shouldn't feel that our worth to others is defined simply by doing. Choose what's impactful and important and find others to help with the other things [like laundry!].
To buy tickets for the Designed for Impact Event and Women's Marketplace, visit www.iamdfi.com.
Read More About
Category: All