[Written by Patrick Bean]
Friday night's winning headed goal by Nahki Wells certainly sent joyful shock-waves among the caldera topped mount called Bermuda, however the rumbling excitement of Bermuda's upset win over El Salvador has well migrated beyond its pictured shores.
The fleet-footed forward is excitedly being talked about at a particular place of importance to Wells relevant to the career he has woven beyond the grass-roots fabric at St. John's Road club Dandy Town, the institution he is a product of.
Of course the locality of this interest is Queens Park Rangers [QPR], as well as the 23 other Sky Bet Championship clubs in the chase for ultimate promotion to the English Premier League [EPL] or to at least avoid dropping into the lower leagues.
Tweet sent by QPR after Wells scored the winning goal against El Salvador: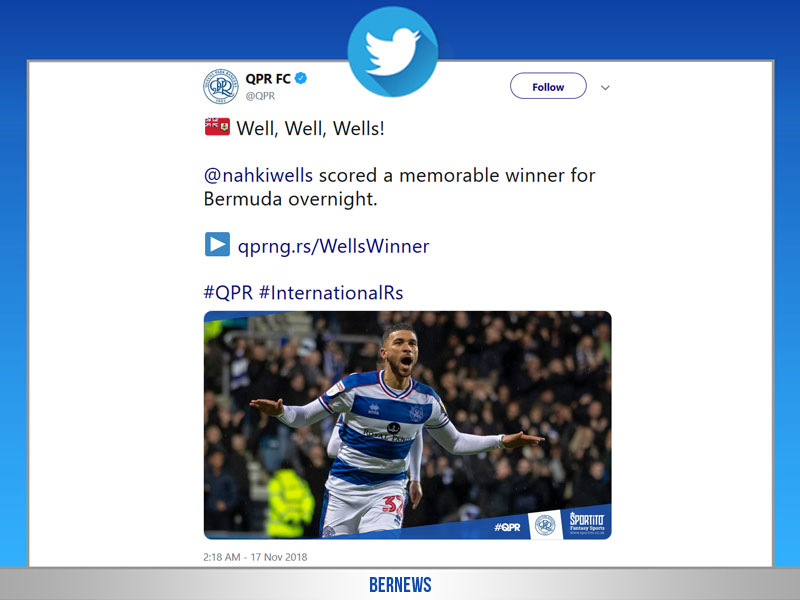 QPR was not shining as they started the year, however have consistently progressed into the top half of the group as of late, these flashes brilliance and good results have also coincided with Wells' recent rediscovery of his goal-scoring knack.
Wells has found the net twice for QPR this season, with both coming recently against Brentford and Sheffield Wednesday. He has been pressing and earning more frequent calls from the club's coach to do jobs on the pitch, and as of late Wells has managed to string together a few starts.
The latest tale of Bermuda's forming talisman was carried prominently on the QPR website using in a site posting words as "memorable winner", "pivotal [player]" and talking of his majestic rise to connect for a headed 71st minute lone goal of the match.
Screenshot from QPR's website: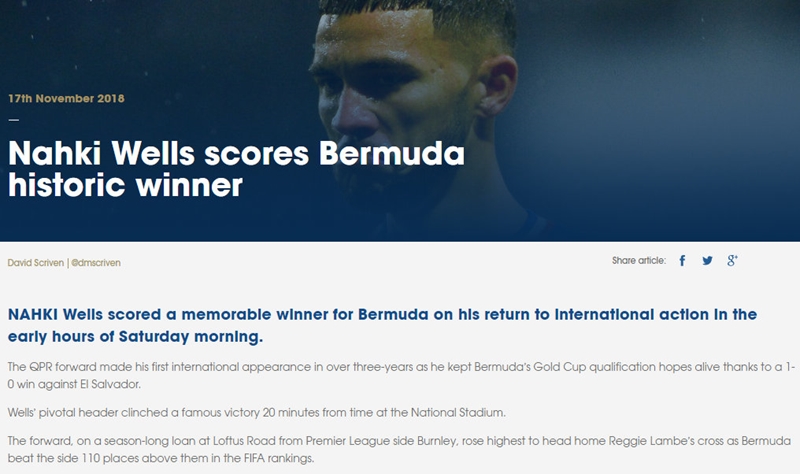 Asked of his intentions as he prepared to journey back to the British Isles following the match at National Stadium, Wells said that the focus is simple, to win matches…and lots of them.
"Winning as many games as possible try and stay around the play-offs," said the Bermuda striker, who is spending this year on loan at QPR from Premier League side Burnley. "We must keep scoring.
"I'm playing. I'm happy. So happy days…and long may that continue."
Reflecting on the fine and triumphant moment of Bermuda's national programme, boosting and promoting the image of a team and programme rising to its greater potential, Wells admitted he was not the best player on the night by far, however goals win matches and big contracts and to such end his was a potential wind-falling success.
"The most important thing in respect of me coming back was to get the result and we achieved that," added Wells. "Of course I played a significant role in it and that's my role, I just try to repay the team with the bit of experience and the expertise I have to offer."

Read More About