Open Airways, with sponsorship from Argus and BF&M, is getting set to offer a free online asthma training module to the public "aimed at anyone who works with children or who have children with asthma."
A spokesperson said, "As you know asthma is very common in Bermuda – 1 in 5 children and 1 in 10 adults. Many of these children and adults have uncontrolled asthma which results in asthma attacks and potentially asthma deaths.
"Around the world it is estimated that more than 1,000 people die every day from asthma; the majority of these are children or young adults and tragically most of these deaths were preventable.
"As an education campaign to improve asthma awareness and asthma control, Open Airways is introducing an online asthma course aimed at anyone who works with children or who have children with asthma."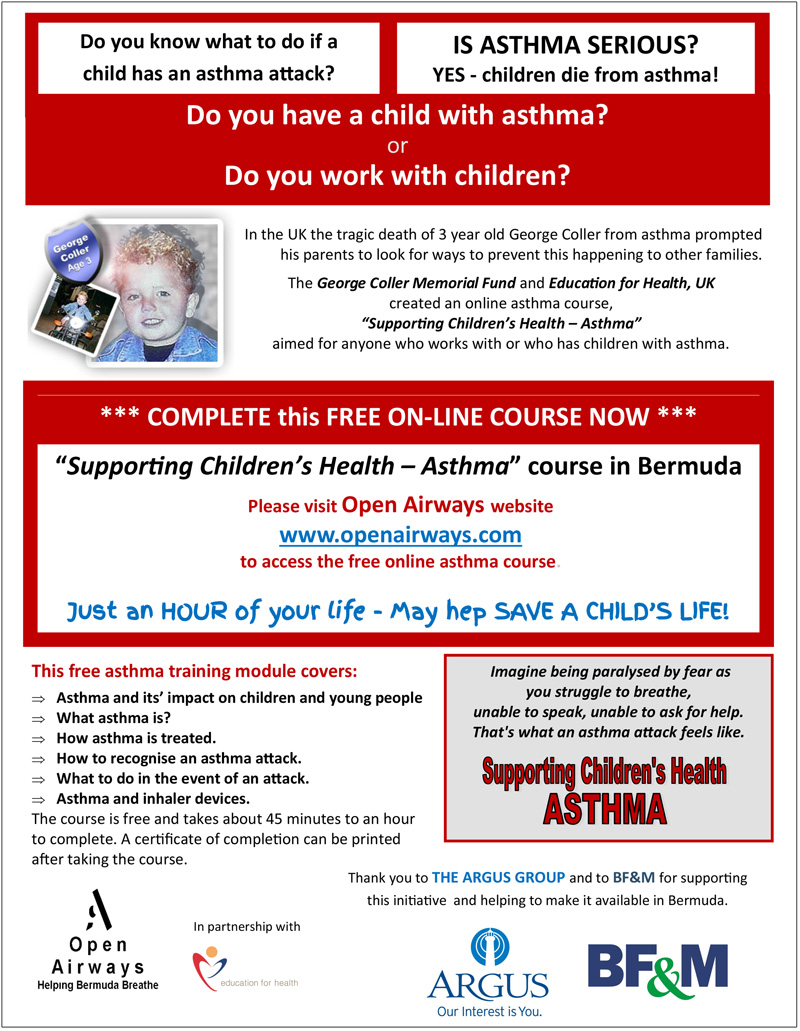 "This free asthma training module covers:
Asthma and its impact on children
What is asthma?
How to treat asthma, medications, inhalers and devices
How to recognise an asthma attack and what to do
"This free course takes about 45 minutes to an hour to complete, a certificate of completion can be printed after taking the course.
"In the UK, the tragic death of 3-year-old George Coller from asthma prompted his parents to look for ways to prevent this tragedy happening to other families. They created the George Coller Memorial Fund and then working with Education for Health, the UK created this potentially life-saving asthma module. Please see online for more information.
"Open Airways, with sponsorship from Argus and BF&M, are pleased to be able to provide this module in Bermuda. Access to the course is through our website. Our hope is that all school teachers, sports coaches, after school camp staff, etc, will take this free course."

Read More About