[Updated with notice of postponement] With events to mark Global Entrepreneurship Week [GEW] underway, the Bermuda Economic Development Corporation [BEDC] is celebrating all things entrepreneurship at the Festival of Entrepreneurship on Friday [Nov 9] on the grounds of the Cabinet Building.
A spokesperson said, "GEW is celebrated worldwide from November 12 -16, but Bermuda has a calendar chock-full of exciting and inspiring events all month long. The Festival of Entrepreneurship will be the perfect place to find out all about other GEW events taking place this month, including the 2nd Annual Small Business Awards, the Rocket Pitch Competition Finals, the Women's Entrepreneurship Day Conference and BE [Bermuda Entrepreneur] Scavenger Hunt and BE [Bermuda Entrepreneur] a Bowler events.
"There will be a line up of speakers showing their support for entrepreneurship including representatives from the Corporation of Hamilton, the Bermuda Tourism Authority, and the 2017 Pitch Green Rocket Pitch winner and owner of Ponda Pits, Surlena Smith, amongst other.
"The family-friendly event will feature a fun zone, local entertainment, including Place's Gombeys, a selection of local food and beverages, and locally made and inspired products. It will also be an opportunity to network with other entrepreneurs and find out all the ins and outs of entrepreneurship in a relaxed, festive environment."
Erica Smith, BEDC's Executive Director, said, "Global Entrepreneurship Week is a time when we highlight the work that our local entrepreneurs contribute to the island. The Festival of Entrepreneurship is the perfect way for us to celebrate those contributions and continue to encourage those interested in starting their own businesses to take the right steps to entrepreneurship. We invite everyone to come out to this free, family event, whether they are an entrepreneur, an aspiring entrepreneur or just simply want to support entrepreneurs and small businesses."
"The Festival of Entrepreneurship is a free event and perfect for the entire family. For more information, visit gew.bm or call 292-5570."
Update 4.30pm: A spokesperson said, "Please note, that due to predicted bad weather for tomorrow evening, The Festival of Entrepreneurship has been postponed. A new date will be issued at a later date."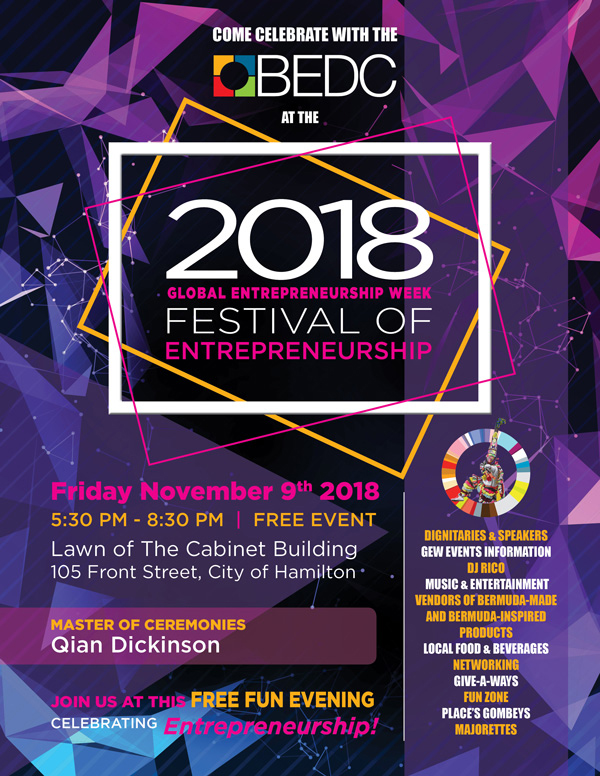 Read More About