[Written by Don Burgess]
Bermuda's LGBTQ community were absolutely ecstatic with the Court of Appeals decision to uphold same-sex marriage in Bermuda.
Winston Godwin-DeRoche was one of a packed gallery who applauded and cheered when the Court of Appeals dismissed government's case. Last year he and his now-husband Greg Godwin-DeRoche won a landmark case in which they were allowed to be married.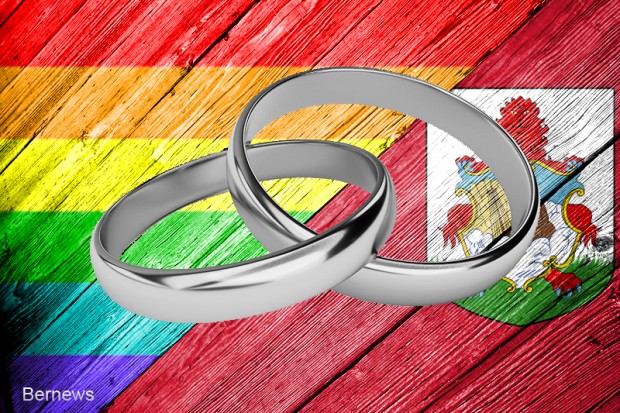 He said Friday's ruling shows "love wins."
"It is encouraging that people see the problems in the Domestic Partnership Act," Mr Godwin-DeRoche told Bernews. "I am just glad it was dismissed."
He said marriage means to him that there is a "quality that is wrapped up in that." He added it shows there is a lack of discrimination and the courts have their back.
"It says to the LGBT community that 'Hey, on paper, you're respected, and your marriage is equal to any other marriage."
He said one of the positive aspects of having to go through three court cases is the support from the community has grown stronger and more visible every time.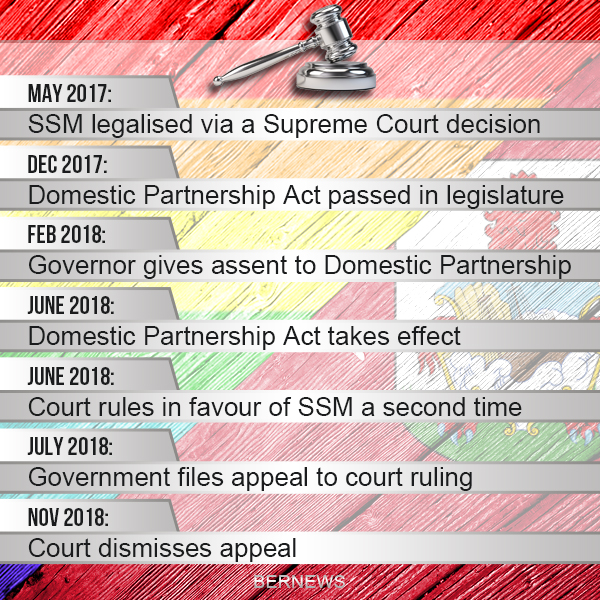 Faith Bridges and Carolyn Altman ended up getting married in Kansas in May as they couldn't do so in Bermuda and were not sure the outcome of the case.
Ms Bridges said, "We were nervous this morning, but we were hoping it would go the right way. We were ecstatic when we heard the news in court, so we are happy for everyone who can get married here. I think anyone should have the right to marry in their country who they love. It's a great win for Bermuda."
Ms Bridges, who owns Aunt Nea's Inn in St George's thinks this will be great for tourism as well. She said she will be lending a helping hand in pushing for gay tourism to the island.
"Bermuda weddings are a big thing and being able to invite the LGBTQ community down is exciting."
Ms Altman added that Bermuda is "a great venue for weddings."
Maryellen Jackson, one of the defendants in the appeal by Government, said she "felt extremely anxious. I had a lot of nervous energy last night. I woke up this morning and thought 'Let's go and do this and see what happens.'"
She felt absolutely "amazing" that same-sex marriage is once again legal in Bermuda.
"It's an amazing decision for all the LGBTQ community. I did what I felt what was necessary. I don't feel that I'm a role model in that sense. Somebody had to stand up, and it had to be me for what I wanted for myself," she said.
When asked what her advice would be if they are thinking about appealing to the Privy Council, Ms Jackson said "Stop. It's done. The message is clear that the people want to move on from this, and there's a better use of Government time and resources. They've obviously lost three times. How many more times do you have to lose before you recognise the battle's lost?"

Read More About