December is "Don't Drive Impaired Month", and the Bermuda Road Safety Council is launching a Designated Driver initiative.
BRSC Chairman Dennis Lister III said, "On behalf of the BRSC I stand here today to announce the launch of our Designated Driver initiative. December is our "Don't Drive Impaired Month" and we are emphasizing having a Designated Driver. We are proud to announce this as two fold measure, to keep our roads safe while also being able to enjoy yourself.
Interim Road Safety Officer Rachael Robinson, Bermuda Road Safety Council Chairman Dennis Lister III and CADA Executive Director Anthony Santucci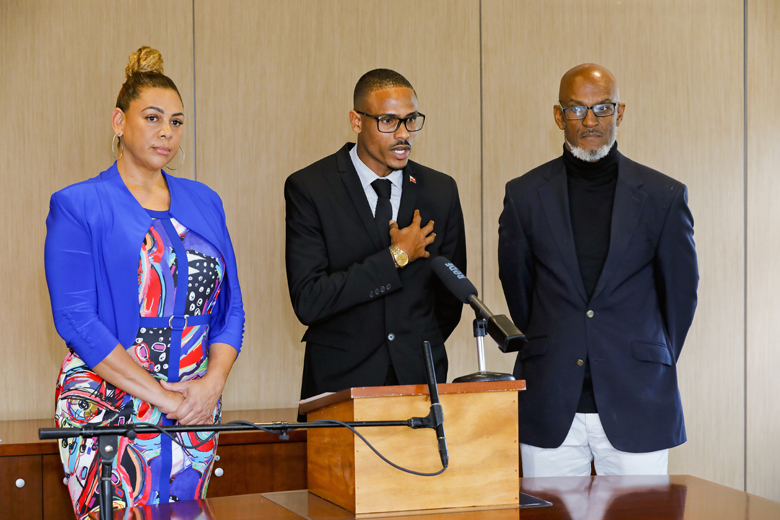 "In recent months we have seen the implementation of Roadside Sobriety checkpoints, while these have been very positive, they have also had a knock on effect in other areas. We have heard complaints from restaurants and bars that they have a seen a decline in patrons as a result of this,  people are choosing to stay home instead of going out to socialize.
"We applaud this change in behavior, but we also don't want to hurt venues that rely on the public for business. We have heard the cry and we know the dangers of drunk driving, so we introduce our Designated Driver Campaign.
"We want to encourage the public to go out and have fun but plan a safe way home. Plan to go out with a friend or more but chose a designated driver before you leave home.
"There are options of a taxi, calling someone who is reliable and may not be out and utilizing Home Safe. The BRSC is endorsing the Designated Driver campaign by looking to partner with restaurants, bars and other venues, to welcome any recognized D/D when they enter their premises.
"The Designated Driver will be guaranteed at least 1 free non-alcoholic beverage at that venue. How will they know who the D/D is? They will be wearing a button on there chest to let people know they are the D/D. We have BRSC sponsored buttons that we will be giving out on Friday. This weekend if you and your friends plan to be out come get your D/D button to alternate amongst your friends over the weekend.
"Each time you are the designated driver, keep a log of it, in January we will recognize the "most reliable" Designated Driver throughout December.
"Making our roads safer takes each one of us doing our part. Having a designated driver is doing your part. Plan your ride, ride your plan"
"In conclusion, the BRSC wants us to have fun and enjoy yourself, but be responsible and plan accordingly."
Read More About