Eight families in need will receive an all-encompassing holiday experience with the help of a significant donation to the Family Centre from the partners and employees at Deloitte Bermuda.
The partners' $20,000 donation will be used to purchase electricity, gas, and grocery vouchers, as well as supplement holiday hampers. In order to provide a full festive experience, the funds will also be used to purchase a tree, decorations, and a holiday meal for each family.
Employees grouped together into 8 teams, with each one being assigned a wish list of gifts and items requested by a special family, and raised an additional $3,000.
John Johnston, Chief Executive Officer, Bermuda and Caribbean Region stated, "Deloitte Bermuda has always had at the center of its business, a social responsibility to its people and to the local community.
"I am pleased to present this charitable donation on behalf of all the partners and staff at Deloitte Bermuda, and hope that it will help to bring a little more holiday cheer to the families in need during this festive season."
John Johnston, Chief Executive Officer, Bermuda and Caribbean Region presents Deloitte Bermuda's charity donation to Dr. Sandy DeSilva, Director of Services and Susan Richardson, Counselling Team Leader at the Family Centre.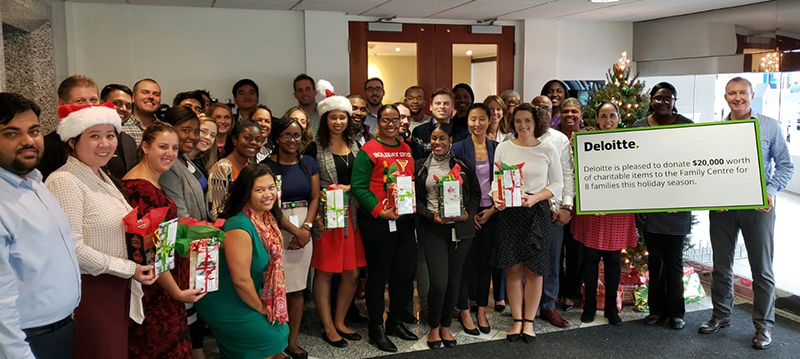 Dr. Sandy DeSilva, Director of Services stated, "Through our annual 'Adopt a Family' initiative, Deloitte generously adopted eight specially chosen Counselling client families in significant financial need during this holiday season.
"Becoming known as the "Deloitte families", their needs and holiday wishes were shared with Deloitte, who did not hesitate to respond with utmost care and compassion. It was abundantly clear that they wanted these families to have a bright holiday full of joy and hope. The families are overjoyed to receive such unconditional support from the Deloitte team – no words can really describe the gratitude of the Family Centre and the "Deloitte families".
"This kindness rebuilds spirit and the hope for families that they can be treated with respect and dignity no matter what the circumstance. Through this support, Deloitte has changed the lives of eight families this holiday season. I want to extend my personal thanks to the Deloitte partners and all of the staff who played a role in this very special project!"
The Family Centre was founded in 1990 to strengthen families and support systems to create a healthier Bermuda for our children. They provide early intervention services, counselling and support services.
Read More About