Do you have a creative vision of clouds? If so, consider entering the 'In The Clouds;' exhibition at the Bermuda Society of Arts gallery, with submissions due in by January 9th,
A spokesperson said, "Enjoy artistic interpretations of clouds through mediums including Painting, Sculpture, Digital Photography and Animation.
"Artists of all ages are encouraged to enter In The Clouds to showcase their creative vision of clouds at the Bermuda Society of Arts gallery at City Hall from Friday, January 11 until Tuesday, February 5th.
"Submissions are due no later then 4:00pm on Wednesday, January 9th. For more information contact BSOA on 292-3824 or email info@bsoa.bm.
"Clouds Exhibition Guidelines and Rules
a] Entry limited to three [3] pieces per person per category of original artwork may be submitted by any person for approval by the jury [decision is final].
b] Entry submission deadline: Wednesday, January 9, 2019 at 4p.m.
c] All artworks must be securely framed with screw eyes inserted and a cord or wire attached or mounted on form core with hanger attached. If not framed or mounted correctly, artwork will be rejected.
e] Entries once accepted for the exhibition are not to be removed from the Gallery during the period of the show except when sold to a departing visitor. All works once hung are to remain as placed. Artists may not interfere with their work once it has been hung.
f] Entries must be brought to the Gallery at the time and on the day specified. All exhibits must be removed promptly at the end of the show. Items left beyond a week after closing of the exhibitioner subject to a Fine of $10 per week per item after the first week. BSoA is not liable for any damage to items left at the Gallery after this time.
Pick-up deadline: 1p.m. Wednesday February 5, 2019
g] The Bermuda Society of Arts [BSoA] receives a commission of 30% on all sales.
h] Questions, please contact BSoA at 441 292-3824."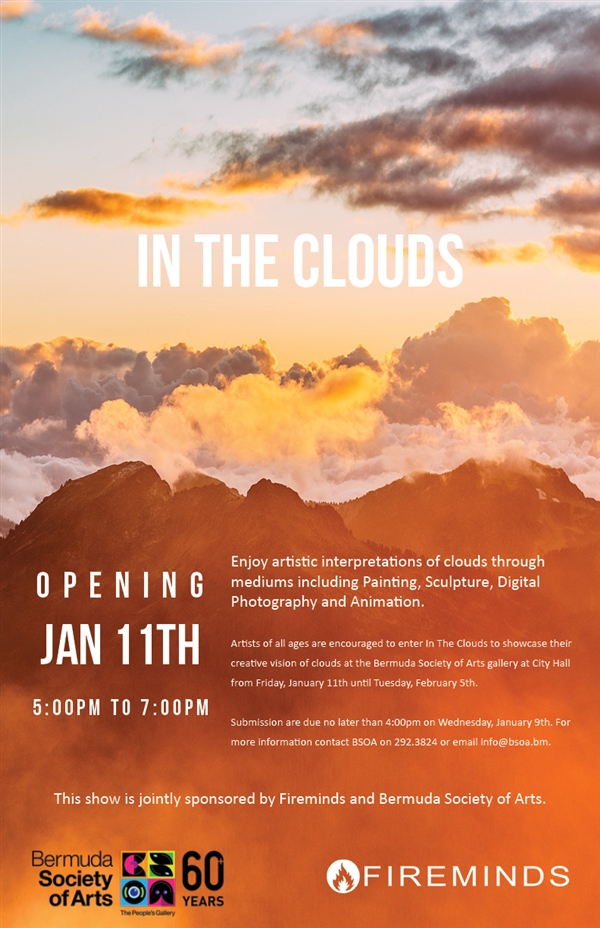 Read More About
Category: All, Entertainment