According to a letter said to have been sent out by the Ministry of Education, School Principals have been asked to request a Doctor's certificate from those who called in sick on December 6th, however citing an interest in "strengthening relations with the BUT" and "working to fix the problems," the Minister intervened, and "consequently, no teacher will have to submit a sick note explaining their absence last week."
Background
This follows after para educators called in sick on December 6th, with Education Minister confirming that "para educators throughout our system" called in sick, while a subsequent statement from the BUT President said the situation "is a direct result of a lack of action by Government to address the needs of schools and teachers that we highlighted."
The 'sick out' marked the latest development in ongoing issues regarding education, as the week before almost all the teachers at West Pembroke School called in sick after agreeing to go on work-to-rule last month, School Principals are also engaging in work-to-rule and last month the BUT confirmed that teachers "voted to take 'appropriate action' over issues they say are negatively impacting schools."
Screenshot of part of the letter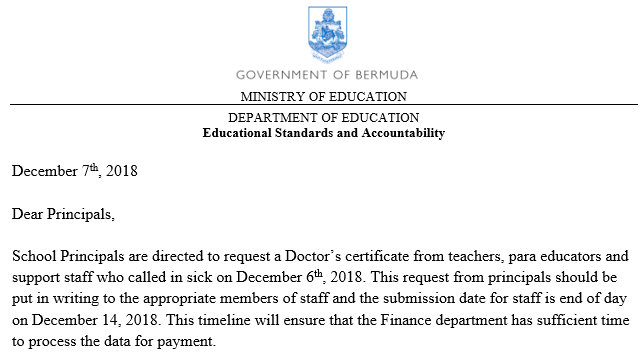 The letter said, "School Principals are directed to request a Doctor's certificate from teachers, para educators and support staff who called in sick on December 6th, 2018.
"This request from principals should be put in writing to the appropriate members of staff and the submission date for staff is end of day on December 14, 2018. This timeline will ensure that the Finance department has sufficient time to process the data for payment."
The letter — which is dated December 7th — goes on to direct where to send the certificates and further states, "Please be reminded that General Orders 1974, states the following:
"13 [1] If any teacher is absent for more than two days a medical certificate shall be required and a teacher who is absent through illness for less than 2 days may be required to present a medical certificate to the Head Teacher, who shall forward it to the Chief Education Officer.
"Please ensure that school administrative assistants clearly identify the following cases: Teachers who were out sick prior to December 6, 2018, Teachers who are on approved leave [leave form signed]."
Education Minister's Comment
The letter was obtained via unofficial channels,  and we asked the Ministry for comment, and Minister of Education Diallo Rabain told Bernews, "We can confirm that The Ministry sent correspondence to the Bermuda Union of Teachers seeking to protect the Public Purse by ensuring teachers who participated in the sick-out action last week were held accountable as per general orders.
"Although correct procedure was followed, given the current environment, in the interest of strengthening relations with the BUT and focusing on working to fix the problems, as Minister, I have decided to intervene. Consequently, no teacher will have to submit a sick note explaining their absence last week.
"We will continue to work with our partners in the BUT to address the concerns they have raised and to ensure that the interests of our children come first.
"It should be noted that the PLP Government inherited a school system that saw moldy schools, slashed budgets, our teachers under resourced and called mischievous, our students futures' jeopardized and the infrastructure crumbling.
"We were given a mandate for change, and are making progress by providing stable leadership, enhancing parental, teacher and student resources, introducing STEAM education in our primary schools and steadily repairing the long neglected infrastructure of our schools.
"By taking the step of removing the request for medical verification of recent leave, we are demonstrating a commitment towards getting all parties focused on the best interests of our children, " Minister Rabain concluded.
There is also additional speculation circulating, and we will update if able.
Read More About