"Three times the courts have ruled in favour of same sex marriage" and "it is time this Government got the message and put the enormous amount of money needed to pursue this case to the Privy Council to better use," OBA Leader Craig Cannonier said.
His comments follow after Government confirmed yesterday that they applied to the Court of Appeal for permission to appeal to the Privy Council in the UK concerning the recent court judgment in the same sex marriage legal case.
Bermuda's courts have already, in effect, ruled in favour of same sex marriage on three occasions; same sex marriage was initially legalised following a Court decision in May 2017, the Court ruled in favour of it again in June 2018 when a challenge was brought to the Domestic Partnership Act, and in November the Court of Appeal dismissed the Government's appeal. The case now looks set to head to the Privy Council in England, which functions as the highest and final Court of Appeal for Bermuda.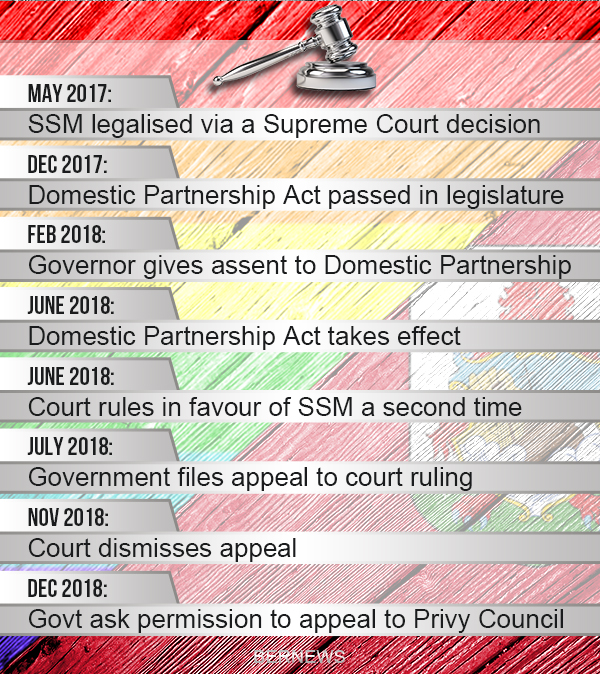 Mr Cannonier said, "Government's decision to spend potentially hundreds of thousands of dollars appealing the same sex ruling is a kick in the teeth to Mrs and Mrs Bermuda whose shoulders are burdened by the weight of new taxes.
"And at a time when schools do not even have working fire alarms, how can Government possibly justify even further expenditure on this issue? People must start taking notice of – and question – Government's priorities.
"Before the announcement of this appeal, there were messages doing the rounds about a possible march on Parliament today [Friday] in order to pressure them into taking further court action. Did Government cave in to the threat of the kind of marches they helped to orchestrate while in Opposition?
"The One Bermuda Alliance has stated that this was a matter for the courts and that it would abide by the court rulings. Three times the courts have ruled in favour of same sex marriage.
"It is time this Government got the message and put the enormous amount of money needed to pursue this case to the Privy Council to better use – starting with working school fire alarms."

Read More About