[Written by Patrick Bean]
Reigning Premier Division champions PHC discarded a chance at seizing the league leadership heading into the last slate of matches prior to the Christmas hiatus, while Dandy Town motioned themselves to the top of the chasing peloton of six teams following Wednesday night's make-up game won 2-0 by the Hornets.
Hornets were the more desperate and determined on the night as were PHC jaded, coming off a 4-0 thrashing of Paget the previous Sunday, and it showed in play and the result, which can lift Town heading into their clash on Sunday at home to an underwhelming Somerset Trojans outfit that has zero wins the entire season and look less and less likely to change the scenario of their charitable giving before Christmas.
PHC can get healthy once again against Paget, who they travel to face at Southampton Oval. However, word is out that Paget will have restored greater manpower than that of a week go with several players returning from injury and Dion Stovell expected to start rather than come off the bench as he did the last outing.
Still, with captain CeCoy Robinson, Wendell [Tre] Ming, Kenny Mathie and Jaheim Iris as just a few of the attacking options at Scott Morton's disposal it will be a tall task even at home for the not always indomitable Lions.
However, while much reference must be given to the champs, a good deal is also due the current head-liners X-Roads, who are to battle in what shapes as the match-of-the-day at Garrison Field, St. George's, where they entertain Robin Hood, another side with a strong attack, hence their third place positioning, a mere point behind both X-Roads and PHC – X-Roads lead the division by superior goal difference.
Donavan Thompson leads all goalscorers by a healthy margin with 16 strikes from eight matches and demands attention from more than one defender, thus creating holes in defences for his team-mates to operate.
They have won beyond being a surprise team but one to be reckoned and respected, however their own defence will likely face a supreme test by Robin Hood's front three of Antwan Russell, Lejuan Simmons and Tomiko Goater, themselves clicking well at the moment.
North Village travel to face Boulevard in St. David's for the other match on Sunday with both apart of the aforementioned 'peloton' seeking improved positioning prior to the break. Devonshire Cougars and BAA played a match last night that also featured two of the league mid-level clubs.
Final matches of the first half in the First Division has Southampton Rangers and Devonshire Colts toiling at the Oval, with Rangers favoured to confirm their first place position in the standings.
Two points behind and chasing Rangers are Somerset Eagles, who face a tricky match against unpredictable Wolves, fresh off of victory over Flanagan's Onions in the Shield last Sunday.
Third placed Hamilton Parish face Flanagan's away, while St. George's host Ireland Rangers and Social Club have a bye.
Weekend schedule of matches:

Sunday, December 9, 2018

First Division
Sunday, December 9, 2018

Masters Division
Saturday, December 8, 2018

Standings
Premier Division – 2018-2019 Regular Season

First Division – 2018-2019 Regular Season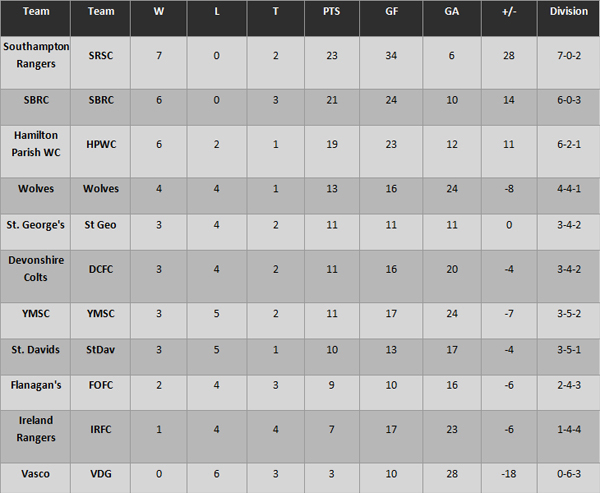 Masters Division – 2018-2019 Regular Season

Read More About