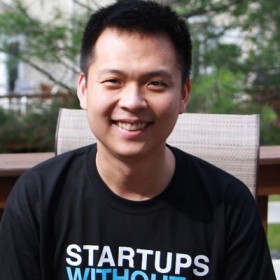 The Bermuda Chamber of Commerce has partnered with The United States Consul General to bring technology expert Chok Ooi to Bermuda for two days of education outreach and meetings.
Highlighted in the recent study by Executive MBA students of Cornell & Queens University [commissioned for the Chamber of Commerce] is the role technology plays in the economic diversification and future prosperity of our economy, with the Chamber saying "critical to our success is the presence of a highly educated and technologically literate workforce."
Chok Ooi is an industry expert in this field and most recently started the Kenzie Academy -a technology apprenticeship school which has developed a new model in education in the United States.
The Kenzie Academy aims to empower individuals by providing them with access to the skills and opportunities to build their future in technology. Their mission is to develop talent pools and attract new technology jobs and other opportunities within communities around the globe.
Mrs. Constance Dierman, U.S. Consul General said, "We are delighted to partner with the Chamber of Commerce in bringing Chok to Bermuda. We understand the impact his academy has had on other communities and would be thrilled if this visit assisted with the increase in technology based education on the island."
"We jumped at the idea of hosting Chok Ooi after reading about the Kenzie Academy, it dovetailed perfectly with the recommendations of our Cornell /Queens study and is the next step in moving Bermuda towards becoming a place for technology" said Kendaree Burgess, CEO of the Bermuda Chamber of Commerce.
Chok Ooi will be speaking at a lunch session held at the Chamber on December 10 focused on the impact technology education has had on communities. The public is invited to join.
Kendaree Burgess continued, "There are many groups in Bermuda focused on technology, whether it be Fintech or an innovation hub. All will be dependent on having a fully trained, tech savvy workforce. So it is imperative that we have the infrastructure in place to support this strategy."
The Chok Ooi session will be held at the Chamber on Monday 10th December at 12:30pm, registration is on line at www.bermudachamber.bm.

Read More About
Category: All, technology