[Updated] Tributes have been paid following the passing of Dr. Clarence 'Tessi' Terceira, with former Premier Michael Dunkley saying that "history will show that 'Tessi' contributed greatly to the progress of our Island and we are grateful for his service through the years."
Dr. Terceira, one of the founding members of the UBP, wrote about his life journey in his autobiography, with the book's description stating, "The grandson of Azorean immigrants who emigrated to Bermuda to work as farm labourers in the 19th century, Dr. Terceira was born into a vanished world where his prospects could have been hindered by prejudice, snobbery and class distinction.
"But Dr. Terceira has repeatedly made a point of not going where the path might have been expected to lead; instead he has always blazed his own trail.
"Through a combination of hard work and an unstinting focus on education and self-improvement, he flourished as a dental surgeon, a banker, a politician and, perhaps most, importantly, a family man."
Photos from his autobiography: Dr. Terceira as a baby with brother Stanley and sisters Audrey and Clara, Celebrating an election win with his wife, Captain of the Saltus Grammar School soccer team [with ball] in 1947.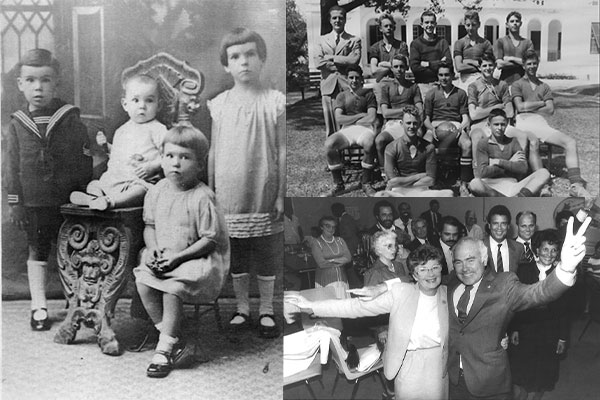 MP Trevor Moniz said he had known Mr Terceira for years and had gone to school with one of his sons, as well as serving as the Chairman of Board of Education under him before being elected as an MP.
"Tessie was always pleasant and cheerful. He was very energetic and he was great to both work with and for. He will be sadly missed and I send my condolences to his family."
Former Premier Michael Dunkley added: "I am very sad to hear the news of the passing of Clarence. I served with 'Tessi' when I entered the House in 1997 and knew him many years earlier as he was my dentist.
"Even after he was no longer involved in politics he would still reach out and provide advice and his views on current matters. I knew him as a meticulous person, very kind, compassionate and understanding.
Presenting a book to the library in 2013: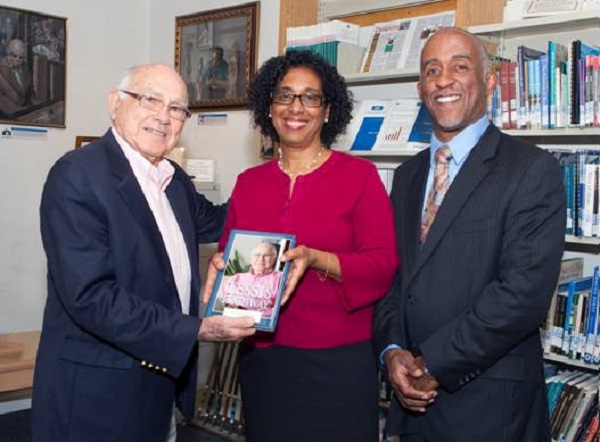 "He was a good family man. History will show that 'Tessi' contributed greatly to the progress of our Island and we are grateful for his service through the years. On behalf of my family I extend condolences to his family and wish them comfort and blessings during this period of grieving."
Update 9.00pm: Premier David Burt today offered condolences on behalf of the Government and people of Bermuda to the family of the late, former Cabinet Minister Dr. Clarence Terceira. The Premier said, "Bermuda recalls him as both a cabinet minister and dentist and his long career of Public Service."
Read More About