The Department of Corrections highlighted the promotion of 19 corrections officers, which took place at the Clocktower Mall, last Friday.
Attending the ceremony were senior Ministry of National Security and Department of Corrections officials, as well as family and friends of those who achieved professional success.
At the event, it was noted that ten officers were promoted from Basic Officer to Divisional Officer, five officers from Divisional Officer to Principal Officer, three from Principal Officer to Chief Officer and one from Chief Officer to Assistant Commissioner.
Bottom Row L-R 1st row D. Harvey, Q. Caines, D. Franklin 2nd row W. Thomas, A/Comm., D. Furbert 3rd row Comm. Lt. Col. Lamb E. 4th row M. Trott, A. Ming, D. Pitcher 5th row M. Wilkinson, P. Downie, J. Codrington 6th row D.Zuill, R. Belboda, N. Simons 7th row D. Ingram, G. Simons, D. Richardson Last row Chaplain Kevin Santucci. Not shown: S. Gomes and S. Turner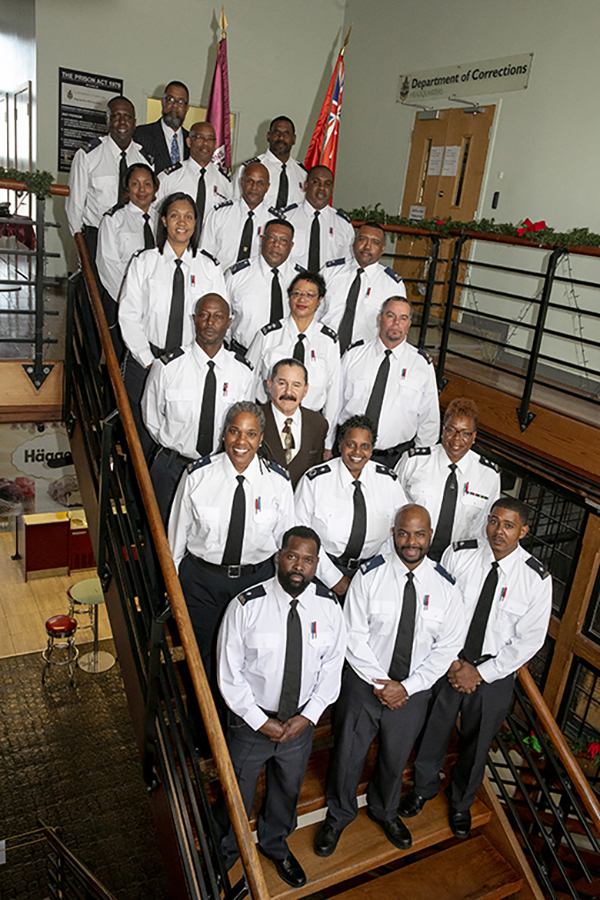 Those promoted include:
Assistant Commissioner Phillip Downie
Chief Officer Ryan Belboda
Chief Officer Sandra Gomes
Chief Officer Dwight Richards
Principal Officer DeOnie Furbert
Principal Officer April Ming
Principal Officer Gladwin Simons
Principal Officer Winette Thomas
Principal Officer Scott Turner
Divisional Officer Quincy Caines
Divisional Officer James Codrington
Divisional Officer Dominic Franklin
Divisional Officer Daron Harvey
Divisional Officer Derek Ingram
Divisional Officer Darren Pitcher
Divisional Officer Marvin Trott
Divisional Officer Nelson Simons
Divisional Officer Michelle Wilkinson
Divisional Officer Doreen Zuill
Today, the Acting Commissioner of Corrections, Keeva-mae Joell-Benjamin said, "The last officer promotions were in 2014, so this was an exciting time for the Department of Corrections.
"On behalf of the Department I am pleased to extend my congratulations to the 19 individuals who have reached this significant professional milestone. They will play a key role in not only carrying out their respective roles as it relates to the Commissioner's Directive and our Strategic Plan 18-20, but also in fulfilling our mission of empowering inmates to be responsible and productive citizens."