The Bermuda Health Council has published the 2018 National Health Accounts Report which details health system costs for the fiscal year ending 31st March 2017.
"These reports identify trends in the health system finance and expenditure and examine how Bermuda's health system compares to that of other jurisdictions," BHEC said.
"These reports are also often used to guide policy decisions for the health system. As has been the general year-over-year trajectory, total health financing and expenditure increased. This increase of $20 million in spending represents a 2.26% uptick, which supports what is expected as the population ages and our communities learn more effective ways to prevent and manage the existing burden of chronic disease.
"This year, we also saw a slight shift in the usual distribution of financing. In particular, we noticed a decrease in health insurance as a portion of total financing and an increase in out-of-pocket payments. To better understand the cause of this shift, and its impact on the sustainability of the health system and individuals' access to care, we are moving towards greater enforcement of the Claims Regulations' legislation.
"The existing legislative requirement supports provider reporting of their full charges for health products and services including the insurance covered portion and the total out-of-pocket copayment."
Ms. Tiara Carlington, Policy Analyst, Data & Research – Health Economics, said, "My experience with compiling the National Health Accounts Reports, and the local and international response to past reports, has shown that while the primary purpose is to analyze the movement of funds into and around the health system, the impact goes beyond that.
"This report provides us with a basis for looking at the bigger picture of how policy decisions can affect our health system's success.  Looking at the findings of these reports over time, it is clear that we have to move away from the expectation that more expensive care means better care.
"Instead, we need to be more sensible about how we spend and align our spending with our system's long-term goals – once we make that change we can begin to expect more."
Dr. Ricky Brathwaite, Acting CEO / Director Health Economics,  said, "This report also demonstrates an important opportunity for Bermuda's overall financial flexibility. We must seek to create initiatives to encourage economic growth while simultaneously working diligently on reducing health expenditure. This is where creating fiscal space can truly become transformative."
"The Health Council will continue to review the information used for these annual publications in the context of achieving quality, equitable and sustainable health system. It is through such an evidence base that we as a collaborative community will move toward making Bermuda the healthiest island in the world," the organisation said.
The table below provides a snapshot of finance and expenditure analyzed in the report.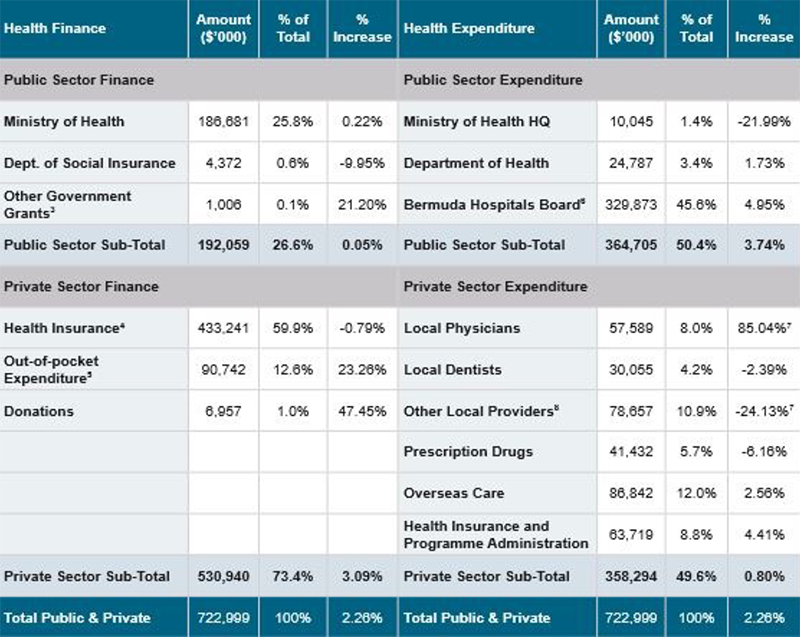 Fot the full report, visit our website.

Read More About