[Updated] The Department of Public Transportation has released the 2019 bus schedule that is scheduled to go into effect on Monday, January 21.
Officials previously said that the new schedule is designed to "temporarily reduce the number of buses required on a daily basis to a level that is sustainable, and in doing so deliver a reliable public bus service."
It has been "developed with due consideration for public demand and fleet capacity" and will "eliminate daily cancellations related to a shortage of buses" and will be "implemented for an initial period of one year, while advancing several key initiatives designed to improve the condition of the fleet."
Update 6.50pm: A government spokesperson said, "The Department of Public Transportation [DPT] and the Bermuda Industrial Union [BIU] are working hard to address outstanding concerns surrounding bus rosters that include multiple days of night work.
"Meetings held today between the DPT and BIU led to a better understanding of the night work issues – an area of much uncertainty and contention in the past.
"While the effective date for the bus schedule is no longer 21 January, 2019, the 2019 winter bus schedule will remain unchanged. More information regarding a new effective date will be forthcoming.
"As the review of night work is ongoing, the public may continue to view the 2019 bus schedule online at www.gov.bm/bus.
"The DPT and the BIU look forward to making necessary changes as soon as possible that will position the bus service to better serve the public."
The full Winter Bus Schedule follows below [PDF here]: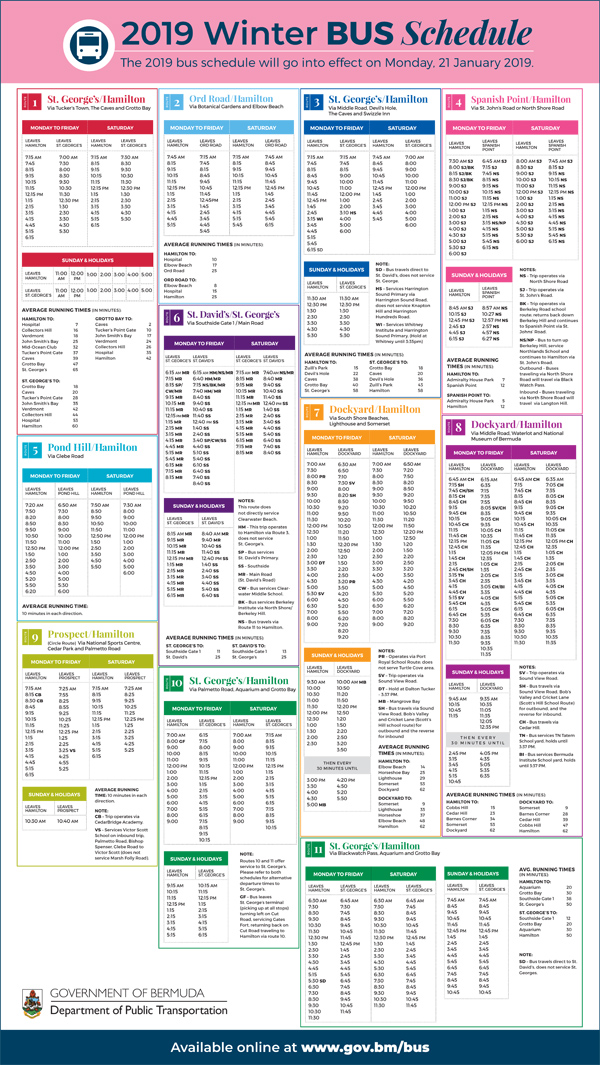 Read More About