[Written by Fredrick Hassell]
We salute EY's managing partners and staff for supporting the Bermuda Senior Islanders' Centre for ten years.
EY assisted the Senior Centre during the slumping economy with donations of a mini-van, cash, computers and other valuable services.
Our association with EY began with Gil Tucker, a former managing partner and continued with Jessell Mendes and David Brown, while Work Place Service Coordinators Johnette Smith and Shammara Simmons link us with EY community service volunteers.
Jessell Mendes and Johnette Smith [EY Bermuda] Fred Hassell, Mrs Ruby Sampson and her niece, Moira Bean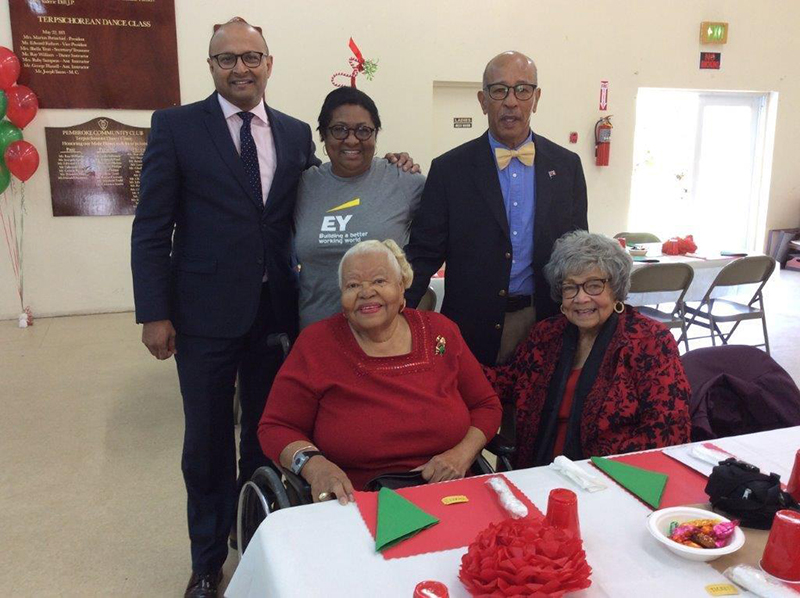 For a decade, EY staff have visited the Senior Centre at Admiralty House Park, to serve festive Christmas meals to seniors and to lavish them with gifts and coveted raffles. Over this period, they have served over 800 meals, provided gifts and door prizes to delighted seniors.
The tenth-anniversary luncheon attended by Premier David Burt and Governor John Rankin took place in the Pembroke Community Centre. Premier David Burt accompanied by Cabinet colleagues Kim Wilson, Minister of Health, Lovitta Foggo, Minister of Community Affairs, and Kathy Ann Simmons, Minister of Legal Affairs, served elders a sumptuous meal. The Whitney Institute School Band, Eugene Joell and Maxwell Maybury's lively music kept the gathering hopping.
One of the highlights of the luncheon was the celebration of Mrs Ruby Sampson's 100th birthday. Governor Rankin and Premier Burt showered Mrs Sampson with accolades, a floral bouquet and a birthday cake.
The Board and members of the Bermuda Senior Islanders' Centre wish to commend EY Bermuda partners and staff for their generosity; shared with seniors without hesitation or recompense.
Read More About