The Government has issued a Request for Information "to gauge the interest from vendors and manufacturers to supply clean diesel, diesel-electric hybrid and/or electric buses to Bermuda's Department of Public Transportation."
The RFI said, "The DPT is responsible for public bus transportation in Bermuda, which has an area of 22 square miles. The island is serviced with 11 bus routes ranging in distance from 7km to 25km. DPT bus service operates 18 hours per day, 365 days of the year.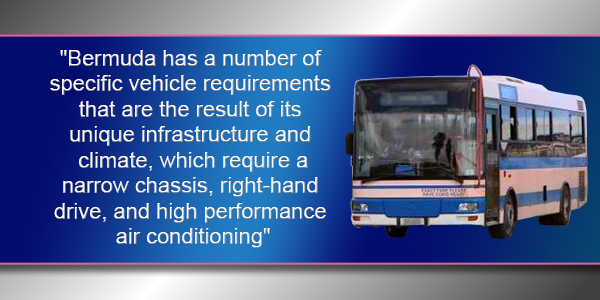 "The current fleet of 98 buses operates out of the maintenance depot located in the central part of the Island and is supported by two additional depots in the east and west ends of the island.
"This bus service provides public transportation for residents, students, and visitors. Approximately 64 of the existing 98 bus fleet, 65%, is over 10 years old and has exceeded its intended service life. Reliability is compromised by the aging fleet and the DPT has embarked on a fleet replacement program to reduce the average age of the fleet and restore reliability.
"The Bus Operator work rosters are currently configured to service a variety of routes in a given day. A bus may be assigned to multiple rosters/operators throughout an 18-hour day. As such, a bus could be required to drive anywhere from 180km to 270km per day.
"The existing fleet of single-deck midi-buses is based on the MAN A66 chassis. There have been a variety of body builders over the years, the most recent being MOBIpeople, Portugal.
"The layout and dimensions for the current 38-seat bus is included in Annex B for reference only. In an effort to improve local air quality, cost and the quality of service DPT seeks to replace its existing buses with more efficient, cleaner running vehicles. To that end, this RFI seeks responses for vehicles powered by low-emissions diesel, diesel-electric hybrid, and battery electric drivetrains."
The RFI notes "Bermuda has a number of specific vehicle requirements that are the result of its unique infrastructure and climate, which require a narrow chassis, right-hand drive, and high performance air conditioning."
Respondents are asked to submit their information and signed Respondent Submission Form by Friday, February 15, 2019.
The Request for Information follows below [PDF here]:

Read More About