Women's A.C.T in collaboration with Bermuda Move Forward will be hosting the 2019 International Women's March with a Community Anniversary Gathering in Bermuda on Monday, January 21 at 12.00pm at Par-La-Ville Park.
A spokesperson said, "The Women's A.C.T's [Action, Change, Today] mission is to advocate for equality, justice, empowerment and support for women who are survivors of Sexual Assault, Violence and Domestic Abuse in Bermuda.
"According to the U.S National Statistics, one in four women will experience domestic violence in some capacity in their lifetime whether it be physical, emotional, verbal or rape. This is a topic that is often subjected to taboo and silence in our community. Bringing light to this subject is necessary in order to provide the appropriate safe havens and supporting programs to those who need it.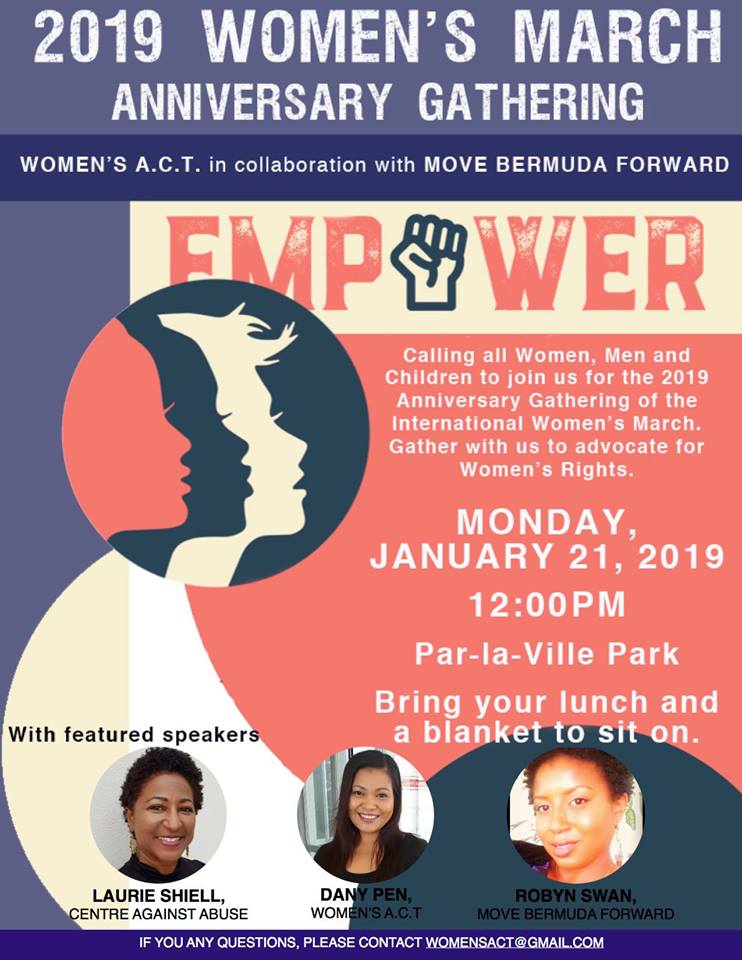 "This will be the 3rd year that Bermuda is leading a Women's March on island advocating for the rights and protection of women.
"Move Bermuda Forward Group has no political party affiliations. We exist to look beyond social and political lines and focus solely on what is best for Bermuda – social, economic, and political resource for all Bermudians.
"This event hosted by Women's A.C.T and Move Bermuda Forward is celebrate the International Women's March Anniversary.
"The mission of Women's March is to harness the political power of diverse women and their communities to create transformative social change. Women's March is an international women-led movement providing intersectional education on a diverse range of issues and creating entry points for new grassroots activists & organizers to engage in their local communities through trainings, outreach programs and events.
"Women's March is committed to dismantling systems of oppression through nonviolent resistance and building inclusive structures guided by self-determination, dignity and respect. – womensmarch.com
"For Bermuda, in the wake of our efforts at engaging the community in changing and improving women's lives, we would like to reiterate our primary mission and goals. We believe that people should be safe from abuse, whether it be sexual, physical, mental and/or financial.
"Since women are most often at the receiving end of such abuse, we are focusing our efforts on this segment of the population.
To this end our goals include, but are not limited to:
Ensuring that there is a safe place for women and their children if they need to escape abuse in the home
Ensuring that there is adequate and appropriate support for women who have survived sexual assault/molestation, to include:
Advocating for augmentation of existing services such as hotlines, and survivor support with police, hospitals and the justice system;
Advocating for augmentation of existing counseling services and the implementation of a strict confidentiality requirement to provide better, more trusted support services.
Lobbying for confidentiality legislation to be implemented with adequate consequences for breach of same
Engaging in public education around all these issues.
Working with and supporting local social service providers to enhance and promote services and programs to the community.
Addressing perceptions and societal mores that perpetuate victim silence, which allows abuses to continue.
The event will include speeches by:
Laurie Shiell from Centre Against Abuse
Dany Pen from Women's A.C.T
Robyn Swan from Move Bermuda Forward
There will be specific topics encouraged for discussion. Please see topics below:
Health [Planned Parenthood, Abortion, Women's Healthcare Support]
Crime [Sexual Violence, Rape Culture, Justice System]
Labour [Wage Gap, Employment, Financial Assistance]
Mental Health [Trauma, Support and Services]
Shaming [Social Media, Bullying, Gossip]
Education [Opportunities, Scholarships, Financial Aid, Social Developments]"
Read More About