Bermuda's Shaquille Dill won the 800m run at the CIAA men's indoor track and field championship helping his Saint Augustine's University team to win the men's title.
The school's match report said, "National power Saint Augustine's University showcased its talent and depth to win its 22nd straight CIAA men's indoor track and field championship at JDL Fast Track on Monday.
"The Falcons exploded for 160 points on the final day to surge past Virginia State University 194-111. The SAU men trailed the Trojans by three points after the first day on Sunday, Feb. 10.
"SAU combined for 64 points in three events [200 Dash, 400 Dash, Triple Jump] to take charge of the meet. They also scored heavily in several other events.
The 2019 CIAA Indoor Track & Field Champs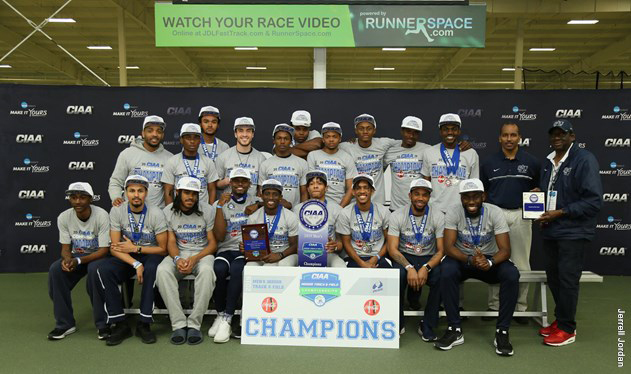 "Overall, the Falcons scored in every event on Monday including victories in five events. Jumonne Exeter [Sr./St. Vincent] captured the triple jump and Shaquille Dill [Sr./Pembroke, Bermuda] won the 800 run. Jeremiah Bridges [So./Powder Springs, GA] took the 60 hurdles and Baron Freeman [Fr./Hampton, VA] was victorious in the 5000 run.
"The nation's top-ranked team of Nathan Fergusson [Fr./St. Thomas, Barbados], Jalen Jones [Fr./Raeford, NC], Darren Alfred [Fr./Bethel, Trinidad & Tobago] and Brandon Parris [Sr./Sion Hill, St. Vincent] won the 4×400 relay."

Read More About