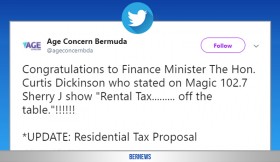 [Updated] Finance Minister Curtis Dickinson has reportedly announced that the proposed residential rental tax that was in the pre-budget report will not be included in the 2019/20 budget.
This follows after Government's statement released earlier today which said that a number of people have contacted Consumer Affairs about the proposed tax, with the Government noting that, "The rental tax was only a proposal that was being considered as part of the pre-Budget consultation process. The Government has not announced a decision on this yet and will not do so until the Budget is read on February 22."
"The proposed rental tax was simply a recommendation of the Tax Commission that was added to the Pre-Budget Report, along with other tax proposals. It was included in order to extract public feedback, which we have been pleased to receive. It should be stressed that no decision has been made by the Government to implement it at this time."
This afternoon, Age Concern — which had previously expressed concern about the proposed tax's impact on seniors — tweeted that the Minister announced on the radio that the residential tax proposal is 'off the table.'
They tweeted, "Congratulations to Finance Minister The Hon. Curtis Dickinson who stated on Magic 102.7 Sherry J show 'Rental Tax……… off the table.' UPDATE: Residential Tax Proposal."
In response to our queries, a Ministry of Finance spokesperson confirmed that the "Minister did announce that the proposed residential rental tax that was in the pre-budget report, would not be included in the 2019/20 budget," and indicated they will be releasing a full statement on the matter.
We will update with their statement as able.
Update 5.40pm: Minister Dickinson has now released a statement, which says: "We carefully evaluated all of the items that were proposed in the pre-budget report and assessed their potential yields, ease of implementation and collection, and impact on the economy.
"In the context of the broader national budget that will be delivered on 22 February, we will be able to meet our budget objectives without having to introduce a residential rental tax.
"We are very grateful for all of the feedback we received through the consultation process and would like to thank all of the various groups, organizations and individuals who chose to participate. We valued your input and took it into consideration."
Update 6.43pm: Shadow Finance Minister Nick Kempe said, "It was clear that there was widespread opposition to the residential rental tax which was causing anxiety amongst our elderly population, in particular.
"I would ask: was there any consultation about this in the first place? If there had been, the scale of the opposition would have been clear, and the Premier should have provided political guidance to the Tax Reform Committee.
"Although the tax was amongst a raft of new taxes being considered, Government intended to raise taxes by $50m in 2019/20 and residential rental taxes were set to raise $26m.
"So, given that 2018/19 still had a Budget deficit of $89m and given that Government has not cut any costs, what tax will replace the rental tax after this about-face?
"Don't be fooled. This Government has already introduced new taxes and it is clear its only plan is to introduce more.
"It has listened to one section of our population, the elderly, will it listen to the rest who have been, or who will be, affected? We will see on February 22."
Read More About