In citing 'Cocktails for the Revolution' in a response to a tweet yesterday, Democratic congresswoman Alexandria Ocasio-Cortez tweeted about the 'Dark n' Stormy' drink, saying a 'world w/o a GreenNewDeal: a Bitter Dark n' Stormy."
Rep. Ocasio-Cortez, who previously worked as a bartender, is the youngest woman ever to serve in U.S. Congress and is known for her high profile social media presence.
The Dark 'n' Stormy, is, of course, made with Gosling's Black Seal Rum and Ginger Beer, and some of her three million Twitter followers recognized the drink, with one response saying, "I love Dark n' Stormy, ever since my first visit to Bermuda. I even buy Barritts Ginger Beer and Gosling Dark Rum!"
"Excuse me, Congresswoman, but the cocktail name Dark 'N Stormy is a registered trademark of the Gosling Brothers," one person responded, while another said they were "torn between my support of the Green New Deal and my enjoyment of a good Dark and Stormy."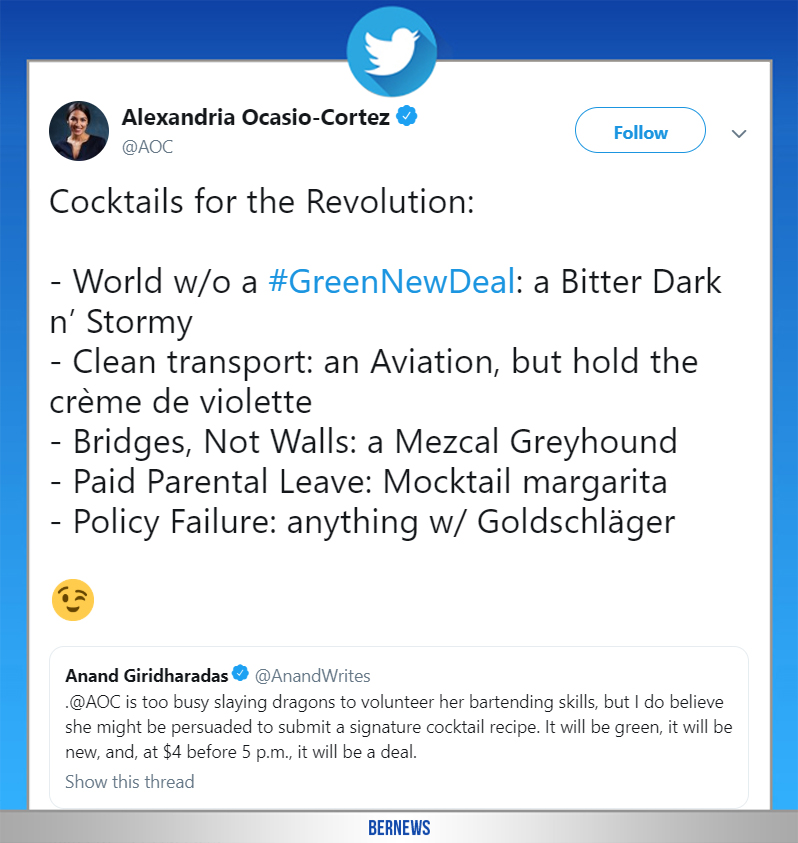 The Green New Deal is a recently unveiled plan "calling for a massive jobs program to stave off climate change, aiming for an enormous investment in "clean, renewable, and zero-emission energy sources" over the next 10 years," the Washington Post reports.
The roll out of the plan was not without controversy, with Business Insider noting that a line on Rep. Ocasio-Cortez's website supporting "economic security to all those who are unable or unwilling to work" resulted in backlash, and prompted mixed messages from her team about where the line came from, and whether it was ever intended to be part of the landmark Green New Deal policy package.
Read More About