Bermuda's legacy in the field of genetics was further highlighted recently with the First Annual Bermuda Principles Awards Gala held at Fairmont Southampton. The 2019 Awardee was Professor Adrian Krainer, of Cold Spring Harbor Laboratory [CSHL] in Long Island, New York, for his work on treating spinal muscular atrophy [SMA]. SMA is a genetic disease found in 1/10,000 babies with a poor prognosis of death by age 2.
Professor Krainer & Premier Burt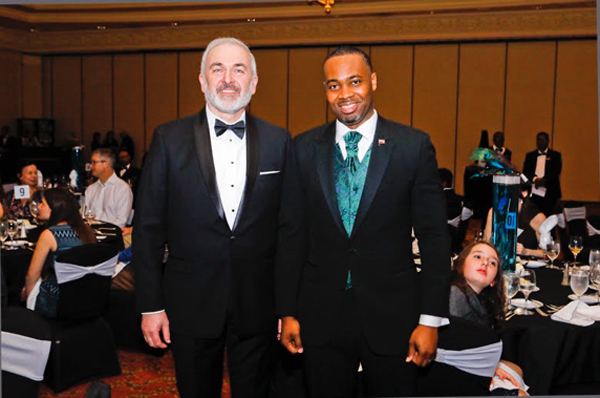 A spokesperson said, "The Bermuda Principles, an agreement established by the top international 50 scientists working on the Human Genome Project, decided to put all DNA sequence data generated into the public domain rather than monetize it through patents.
"The island played host to three meetings from 1996-1998 called the "International Strategy Meeting on Human Genome Sequencing" and the Bermuda Principles Foundation Fund, a non-profit initiative of the Bermuda Community Foundation, was founded to continue this legacy in 2016 by Bermudian biochemist Dr Carika Weldon.
Mrs Burt, Dr Weldon & Premier Burt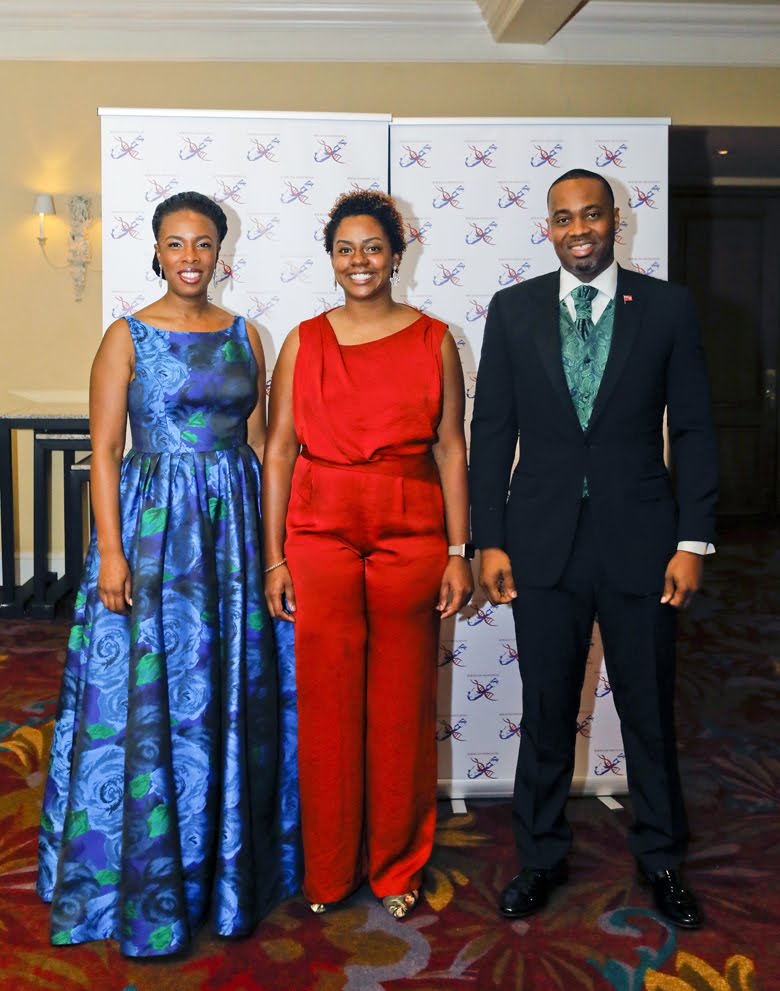 "Professor Krainer has won numerous awards for the effectiveness of his drug Spinraza, which has prolonged the life of those children on the clinical trial by 4-5 years. Recently, Professor, St. Giles Professor at CSHL, co-won the 2019 Breakthrough Prize in Life Sciences."
Premier Burt greeting Nobel prize winner Sir Dr Richard Roberts and Dame Jennifer Smith greeting Mrs Roberts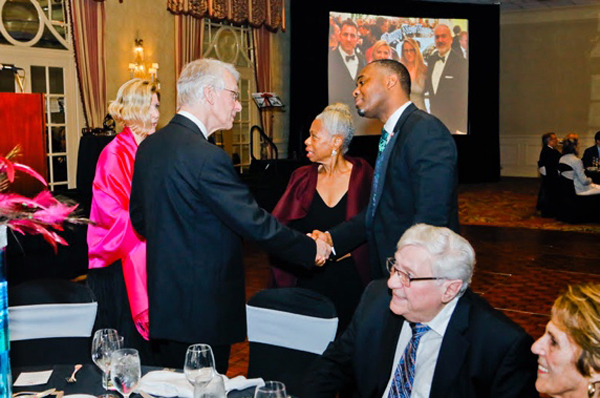 Dr Weldon commented that, "We felt it necessary to get Bermuda to honour a distinguished scientist who embodied the fundamentals of the Bermuda Principles. Without the Bermuda Principles agreement, work such as Professor Krainer's would have not been possible so quickly and may have been unfeasible to fund. It also brings national pride to our island in the sciences, something that can inspire young budding scientists."
Premier Burt, Professor Krainer with Bermuda Principles Award & Dame Pamela Gordon-Banks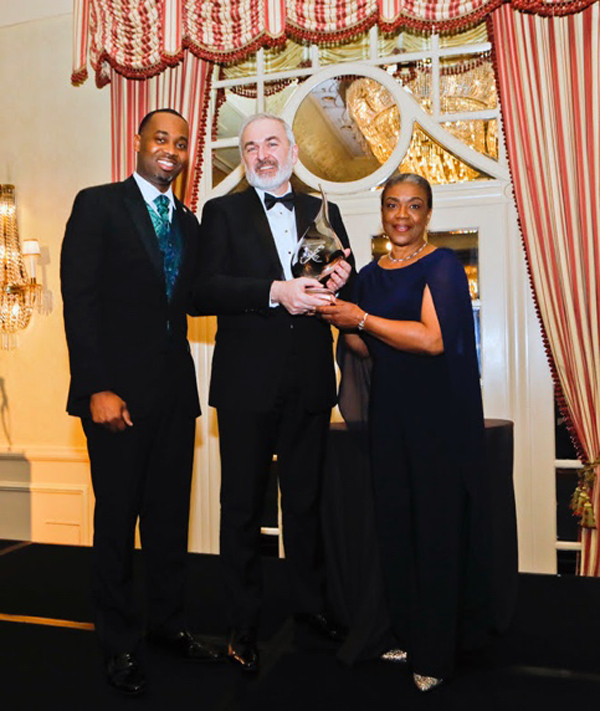 The spokesperson said, "145 international and local guests gathered to pay tribute to Professor Krainer. This included family from Uruguay and the States, former lab members who worked with Professor Krainer during their research career, friends from the UK and US, the 1993 Nobel Prize winner in Medicine or Physiology, Sir Dr Richard Roberts, and many local dignitaries including the current Premier, the Honourable E. David Burt, JP, MP and the current Speaker of the House, the Honourable Dennis Lister Jr, JP, MP.
Professor Krainer, his sons, wife and family friend dancing with the Evolution Gombeys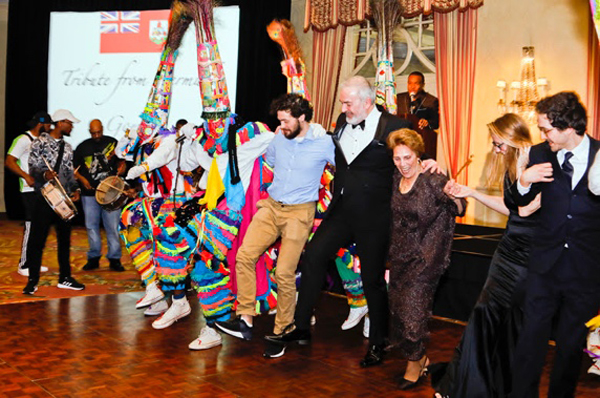 "A range of tributes were given, consisting of:
Tribute from Dr Weldon – a quartet consisting of her along with former members of the Menuhin Foundation
Advisor tribute – Sir Dr Richard Roberts, 1993 Nobel prize winner in Medicine or Physiology
CSHL Tribute – Professor David Spector, Head of Research at CSHL
Young scientists' tribute – Bermudian Kameron Young & Indian PhD student A.P. Sudheesh
Krainerite tribute – Professor Olga Anczukow-Camarda, Associate Professor at The Jackson Laboratory for Genomic Medicine
RNA Society Tribute – Professor Ian Eperon, Professor at the University of Leicester
Collaborator Tribute – Dr Frank Bennett, co-winner of the 2019 Breakthrough Prize with Professor Krainer & SVP at Ionis Pharmaceuticals
Industry Tribute – Professor Ryszard Kole, Principal at Ercole Consulting
Tribute from Bermuda – Evolution Gombeys
Dr Weldon, Dame Jennifer Smith, Professor Krainer, Dame Pamela Gordon-Banks, Premier E. David Burt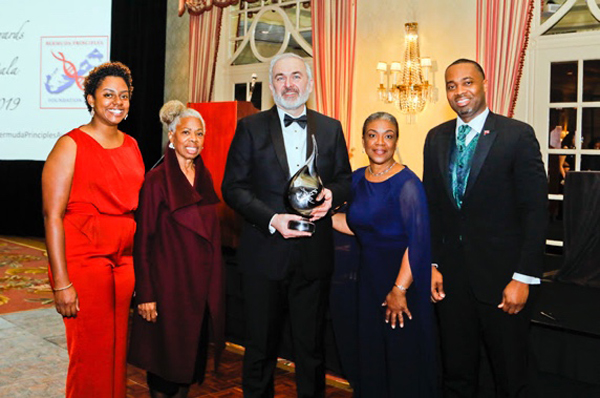 "The presentation of the award was done by both current Premier and the Premier during the last of the 1996-1998 meetings, Dame Pamela Gordon-Banks, DBE, JP, MP.
Professor Krainer with Dr Weldon's mentees and co-MC John Lee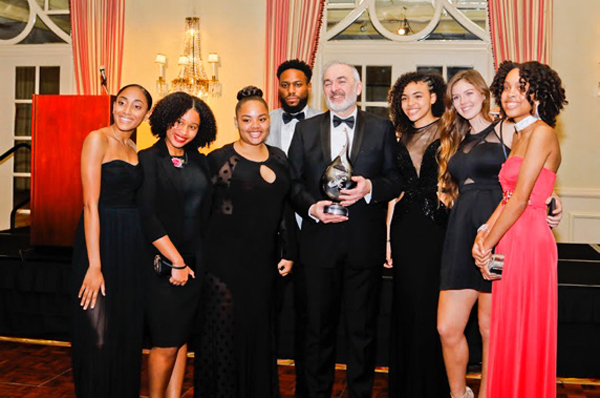 "Overall guests were serenaded by Bermudian culture, with gombey centre pieces, steel pan music during the cocktail reception, the interactive gombey dancing and the Bermudian glass blown award. To promote local artists, as well as contribute to the fundraising of the evening, a Silent Auction was held with donations from Carlos Santana Artistry, IeShun S. Designs by Monique Stevens, Sweetish, Dae Dream Art Inc, the Fairmont Southampton and the Bermuda Principles Foundation Fund.
"All proceeds made from the night will go towards continuing to allow the non-profit initiative to put on international conferences that benefit the community and the youth.
Premier Burt, Speaker of the House Dennis Lister Jr, Dr Franks Bennett, Professor David Spector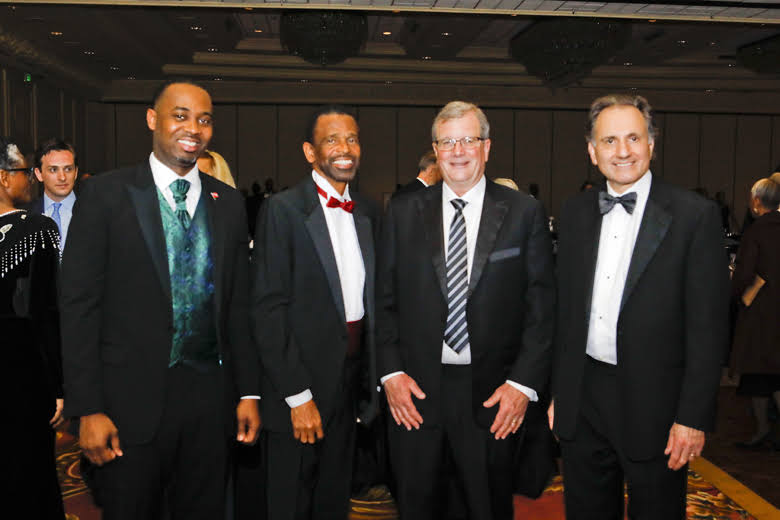 "Local high school students also benefited from the Gala, with many of Dr Weldon's new mentees attending. They were ushers for all those who gave tributes and were able to mingle with top class scientists for the evening."
Presentation of the Award: Premier Burt & Dame Pamela Gordon-Banks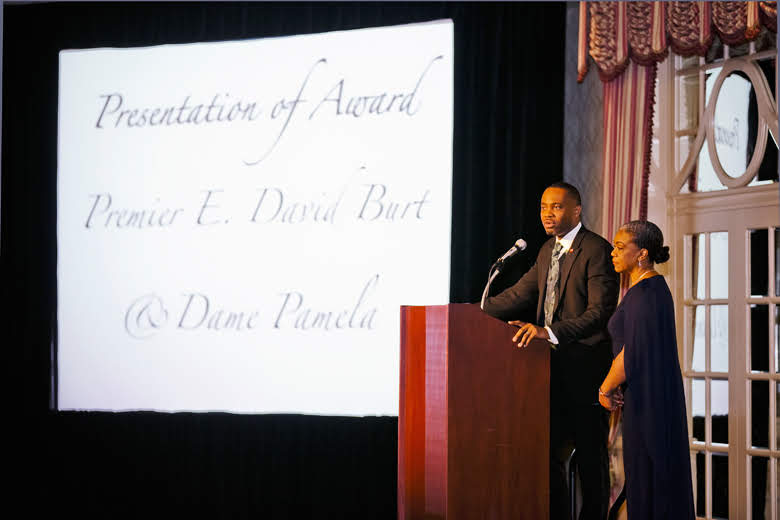 "I would like to personally thank all who travelled from far and near to join us for a celebration of excellent science and true Bermudian culture", Dr Weldon said. "There has been nothing but great feedback from international guests who have said the experience could not be compared to any other".
Professor Krainer giving acceptance speech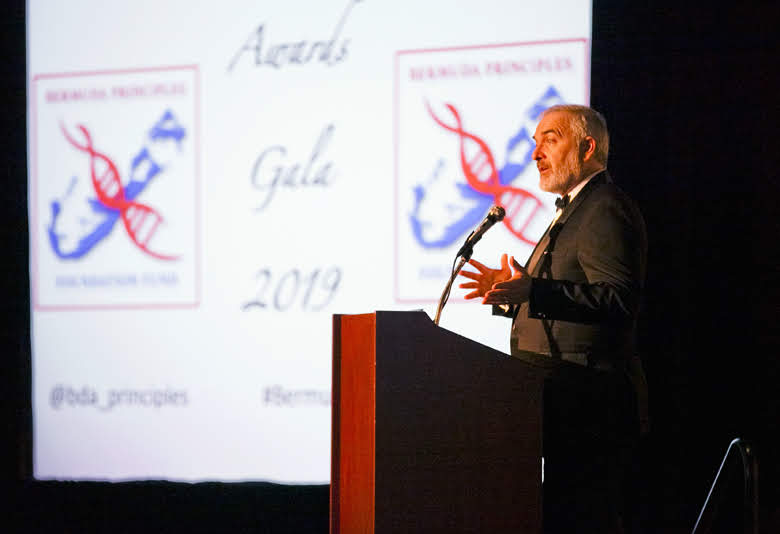 The 2019 Gala was streamed live on Facebook and can still be found on the Bermuda Principles Foundation Page. If anyone would like to get involved or support the Foundation Fund's 2020 Awards Gala, please email admin@bermudaprinciples.org.
Read More About