After adjusting for the retail sales rate of inflation – measured at 2.3% in October – the overall volume of retail sales decreased 0.4%, according to the recently released Retail Sales Index.
"Three of the seven retail sectors recorded declines in sales volume with apparel stores recording the largest volume decrease of 7.8%. In contrast, retailers of building material stores recorded the largest increase in sales volume of 9.1%," the report said.
"In value terms, retail sales increased 1.9% to an estimated $94.4 million. Returning residents declared overseas purchases valued at $5.4 million, which was 5.9% higher than October 2017. This contributed to a combined local and overseas spending of $99.8 million."
Chart extracted from the report: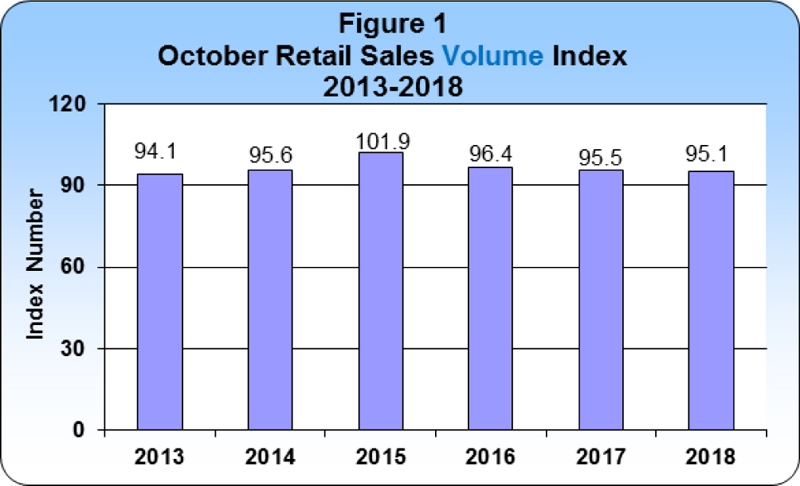 Minister for the Cabinet Office Walton Brown said, "The value of retail sales increased by 1.9% after seven consecutive months of decline.
"The growth in the value of retail sales is partially due to the return to more normal levels following the large increases in sales related to the America's Cup in June 2017.
"As the year progressed, the positive effect of the America's Cup diminished as most individuals and organisations connected with that event had left the island by October 2017. Therefore, when October 2017 is compared to October 2018, the 2017 numbers are not inflated due to the one-off event."
"Although three of the seven retail sectors recorded declines in sales volume, sales of building materials, food sales, sales at pharmacies and sales of boat supplies all recorded positive growth."
The full 2018 October Retail Sales Index is below [PDF here]:
Read More About