[Written by Mikaela Ian Pearman]
Tempest Bistro is known for its themed dinners and interesting menus. And on Saturday night, there will be another theme, another dinner.
But this time around, it will be a bit different because the theme is vegan. That's right, an entire five-course tasting menu will be gourmet and vegan.
Owner Mark Turner had toyed with the idea for some time and finally decided to make it a reality. Initially, it was due to be held in January for Veganuary, but it was delayed due to Restaurant Weeks.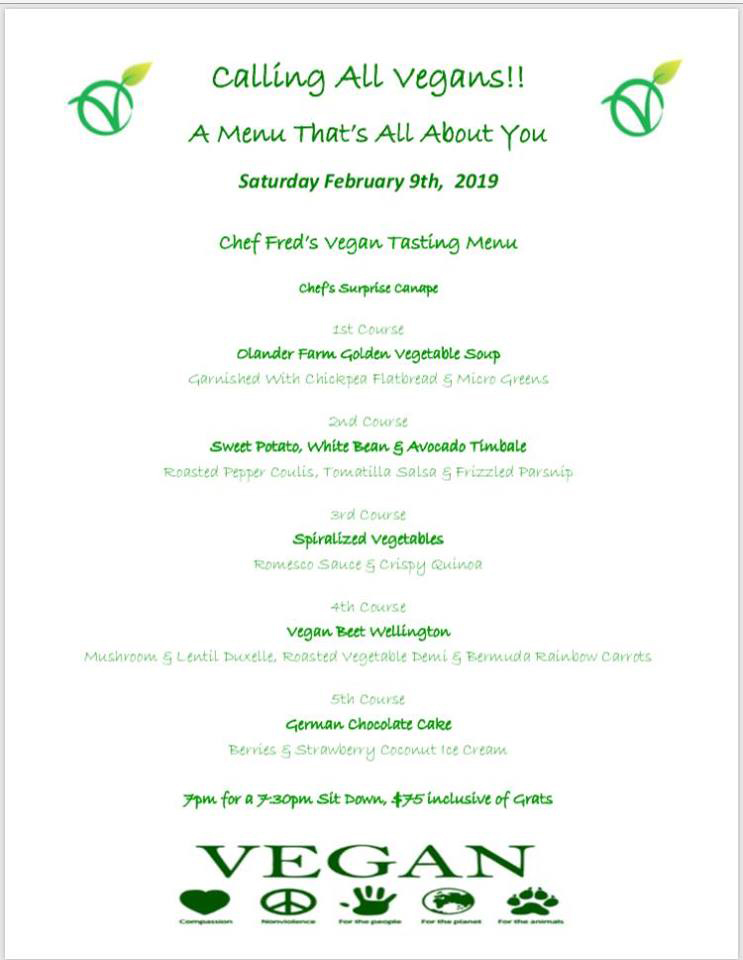 "We have set out, or tried to anyway, to dispel the notion that vegan food is boring and bland, or that to make it interesting you need to use store bought items," Mr Turner says.
The menu is far form bland. Head Chef Fred has created a mouthwatering five-course tasting menu with dishes such as Olander Farm Golden Vegetable Soup, Sweet Potato, White Bean and Avocado Timable, Spiralized Vegetables, Vegan Beet Wellington and German Chocolate Cake to finish the night off.
Mr Turner said: "It's a menu which will hopefully show with a bit of creativity vegan food can be exciting. The menu is based on traditional dishes in most cases, but with a vegan twist. For instance, Beetroot Wellington uses beets instead of beef."
The chefs at Tempest – Fred and Junior – are both from St. Lucia and focus on seasonings and spices with a hint of West Indian flair. Mr Turner said his chefs are both young, willing to take a few risks and are always up for a challenge.
As for upcoming themed dinners, Mr Turner said: "Upcoming events we have include our St Lucia Independence Day dinner and dance on February 23 and then on March 9, we have the Zora Neale Thurston life and food dinner, where the menu is based on events and places that helped shape her into the woman she was.
"There is also between courses a bit of history about her and how we came to select the dish. We are also mulling over the idea or either a chocolate dinner or blind wine tasting, also known as the steel sommelier dinner towards the end of March. Facebook and Instagram are the best places for info on upcoming events."
The vegan dinner will be held this Saturday, February 9th, at 7pm for a 7:30pm sit down. The cost is $75 per person inclusive of gratuities. To make a reservation, please call 297-0861.

Read More About
Category: All, Entertainment, News