At approximately 10.30pm on Saturday night, viewers from around the world watched as the Cahow egg in burrow #832 began to hatch on the nonsuchisland.com CahowCam2.
"The first hint that something was going on was a broken egg shell," said Nonsuch Expeditions Team Leader and CahowCam developer Jean-Pierre Rouja. "Then, around 11.30pm, the chick's head first appeared from under its parent. Progressively, throughout the night, more and more of it was revealed."
Senior Terrestrial Conservation Officer Jeremy Madeiros said, "We were very happy to see the chick hatching in the second CahowCam nest, and a bit surprised as I was not really expecting hatching to occur for several days yet.
"When I returned to my records, I could see the adult had returned during a stormy period in January when I had not been able to visit Nonsuch, so the egg was laid at the beginning of this period, not the end as thought.
"This brings the number of Cahow chicks so far confirmed as hatching on Nonsuch to nine, with adults in four nests still incubating eggs. The total number of chicks confirmed on all nesting islands now is over 45, with more nest checks scheduled over the next week, weather permitting."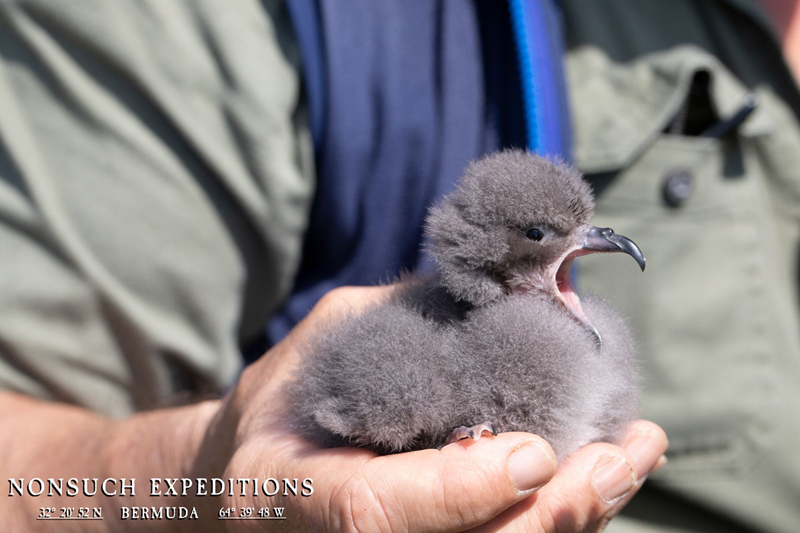 The CahowCam Project is now in its seventh season broadcasting live from Nonsuch Island, and the third season in collaboration with the Cornell Lab of Ornithology [with whom over 15 million minutes of CahowCam video were watched over the past two years].
The new CahowCam 2 had just been installed in burrow #832 only a few days prior to the hatching. It's one of several that the team is installing this season to give researchers, students, and viewers around the world fascinating insights into the nesting activities of the second rarest seabird on the planet. It is located alongside burrow #831 from which the current CahowCam continues to stream as it has for the past five years. Historically, burrow #832 hosted the Camera for the first two CahowCam seasons [2013-2014] during which the same pair successfully reared chicks named "Backson" and "Lightning".
Minister of Home Affairs Walter Roban said, "I am so pleased to hear of another successful hatching at Nonsuch Island. I want to give a huge congratulations to the staff of the Department of Environment and Natural Resources who work tirelessly – sacrificing their weekends and evenings – to help bring our national bird back from the brink of extinction. Thank you also to Nonsuch Expeditions for enabling these incredible moments to be captured on camera and shared with a worldwide audience."
2019 CahowCam Hatch Highlights | Nonsuch Expeditions
"Going forward we plan to be live streaming both cameras in parallel to allow researchers and our followers to observe the similarities and differences in behaviors between the two pairs' nesting seasons," said Mr. Rouja.
"As we were going live with this new camera during the most sensitive part of the nesting season [egg incubation], it was important to install the camera in the least disruptive way possible.
"Accordingly, we have custom-built new infrared lights to work with our new HD camera to fit in the pre-existing four-inch PVC pipe that remained in place from the original CahowCam setup in this same nest in 2013/14. This also brings us back to the traditional Top Down view that we used for first few CahowCam seasons, giving us an alternate wider view of the entire nest chamber from above.
Mr Madeiros said, "This season we are working with international researchers to track the Cahow's foraging expeditions using new nano-GPS tags to shed light on where they are finding their food in the Sargasso Sea and beyond. In addition, there is concern that new proposals to carry out oil and gas exploration on the Continental Shelves may present a potential threat to the Cahow and many other seabirds, as previous geolocator tagging indicated that Cahows visit these areas regularly for foraging. In parallel we are doing blood work to identify contaminants that may be exposed to through their food, all of which will assist with the ongoing management of the species.
CahowCam2 Hatching Nest Check
Cornell Lab of Ornithology Bird Cams Project Leader Charles Eldermire said, "I continue to be amazed at how close these rare petrels are to the technology and infrastructure that enables us to share their lives with the world. It's really a testimony to both the ongoing efforts of Jeremy and the Bermuda Government as well as the investment from Nonsuch Expeditions that our far-flung audience can now observe two sets of petrels."
David Freestone, Executive Secretary, Sargasso Sea Commission, said, "The Sargasso Sea Commission is convening a workshop this week in Bermuda and one of the issues being looked at is the connectivity between the Sargasso Sea, Bermuda and the wider Atlantic ocean system.
"The cahow, is an iconic creature that symbolizes the connectivity between Bermuda and the open ocean – particularly the Sargasso Sea and now this research will provide data to back this up. Its recovery is a great tribute to the dedicated conservation work of Bermudians which is being showcased to the world."
John W. Fitzpatrick, Director, Cornell Lab of Ornithology, said, "The Cornell Lab of Ornithology is thrilled to partner with Nonsuch Expeditions in helping share with the world the intimate biology of these extraordinarily rare petrels, and the conservation success story they represent. We join hundreds of thousands of viewers in hoping that this new chick survives to fledging, and eventually returns to breed on Nonsuch Island."
Readers can sign up for the Nonsuch Expeditions Newsletter and watch the live video streams from both the original CahowCam and CahowCam2 on www.nonsuchisland.com
- Photo above courtesy of Jean-Pierre Rouja/Nonsuch Expeditions

Read More About
Category: All, Environment, News, Videos