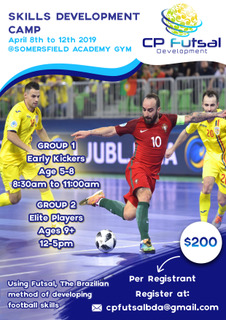 A CP Futsal Skills Development Camp is set for the week of April 8.
A spokesperson said, "For students still on Easter break during the week of April 8th, 2019, the popular Futsal skills development camp will be hosted at Somersfield Academy gym.
"The popular format separates the younger players who are working toward mastering their skill on the ball, and older players who benefit from the later start which has resulted in higher productivity.
"Coach Peter Rickards will be on hand to facilitate the sessions incorporating practices from his UK coaching plans.
"Anyone interested in attending the skills development camp should contact cpfutsalbda@gmail.com"

Read More About
Category: Sports