"If anyone knows anything can you please come forward, as this has ruined my whole family's life."
Those were the words from the family of the late Jen-Naya Simmons, who tragically died following a hit and run collision that took place on North Shore Road in Hamilton Parish on July 15th of last year.
Ms Simmons family joined the police at a press conference yesterday, and they have appealed for people to come forward, with the police noting that there were other occupants in the vehicle - a silver Suzuki APV motorcar – who have "not done the honourable thing and come forward."
The veteran police officer investigating the collision said that in his 26 years in the job, he has "not experienced a fatality where a young lady, or anybody, was left on the side of the road to die," and stressed that the investigation continues, and appealed for people to come forward.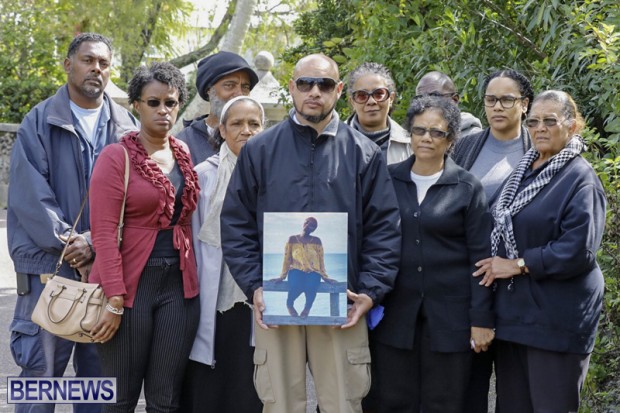 Police Sergeant Dorian Astwood said, "Many of you may recall on July 15th, 2018, in the early hours of that morning, young, vibrant Jen-Naya Simmons, who was only a teenager, had her life tragically taken, after being involved in a road traffic collision.
"Today, I have the privilege of having with me the family of Jen-Naya and the officer heading the investigation, PC Walter Jackson.
"In the initial stages of the investigation it was believed that the incident was a single vehicle collision. However, as our investigation continued critical pieces of information began to emerge and it was then confirmed that another vehicle was involved, that vehicle was a silver Suzuki APV motorcar.
"As a result, a male was arrested in connection with the incident and he was subsequently released on police bail.
Family appeals for help after fatal collision
"Over the course of the investigation, we have appealed to the public for assistance with information and we are thankful for everyone who has come forward with information thus far. All tips have been useful as we continue to piece together this very unfortunate event.
"Let me be abundantly clear, we are not yet finished with the investigation. We have information that suggests there were other occupants in the vehicle. Those individuals for whatever reason have not done the honourable thing and come forward.
"It is now time for members of the community who know who they are to speak out as your silence is disrespecting the memory of the deceased. Many people are walking around with guilty consciences and heavy loads on their hearts. Do the right thing and come forward.
Video of the full press conference held yesterday
"The manner in which Jen-Naya's life was taken was callous! I honestly cannot imagine how one can sleep at night and carry on with their daily activities without experiencing the fear of reprimand. You are aware of what occurred and anyone having this information with a conscience would report what they know to us.
"Please be informed that failing to do so is a crime and punishable under the law. This is a serious matter as a young lady who had a bright future ahead of her was taken away from her family and friends so tragically. Help us bring justice and closure to the family.
"Anyone with any information is asked to contact PC Jackson or myself on 295-0011.
"Please know that you still have an option. You may call the independent and anonymous Crime Stoppers number at 800-8477. The call is managed by operators in the United States and they will be interested in your information only."
Read More About
Category: Accidents and fires, All, News