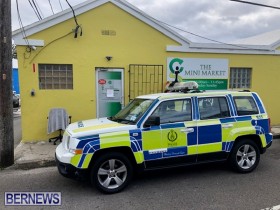 A robbery took place at a business on Ord Road in Paget this morning [March 9] with a male brandishing a "bladed article" and demanding money, the police have confirmed.
A police spokesperson said, "Police responded to a report of a robbery that took place on Ord Road in Paget.
"Details are still emerging but it appears that a 8:30am today [March 9], a male entered 'The Minimart' on Ord Road in Paget and brandished what appeared to be a bladed article and demanded money.
"He was given an undisclosed amount of cash and he then left the area on foot.
"He is described as a 5'tall, brown complexioned male, of slim build and wearing all black.
"Anyone with any information on this incident is asked to call CID on 295-0011."
Read More About