Tickets for Absolutely Murder – a play written by Guernsey LePelley, produced by Samuel French, and directed by Debby Correia – are on sale now, with the production to take place from April 17 to April 27.
A spokesperson said, "A body – which just won't stay dead, it seems – is found in a chest in an abandoned gunpowder factory. This has all the elements of the classic 'dark-and-stormy-night' mysteries – a young girl and her two rival boyfriends, stranger-than-strange strangers, a mysterious doctor, a murderer, and that corpse that just won't stay put.
"There is mystery, romance, suspense and murder topped with some special effects to set the theme of the play.
"Ms Correia is no stranger to the theatre, having attended many performances in Canada where an aunt and uncle were involved in the opera and the US with her family to watch her niece perform. She also assisted with the In Motion School of Dance performances.
"She proposed the idea of this show to the Bermuda Musical & Dramatic Society a year ago and was thrilled when it was accepted.
"Ms Correia previously assisted backstage with props and crew before turning her sights on the management side of productions. She has been Assistant Stage Manager for several shows then Stage Manager for Famous for Fifteen Minutes and recently co-producer and co-Stage Manager for Teddy the Lost Dog."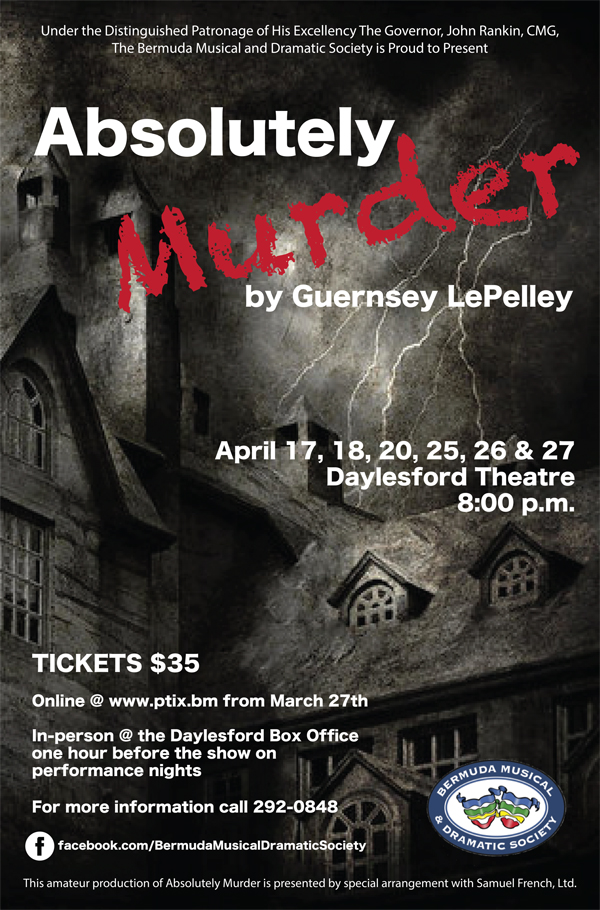 "This is my debut as a director for a full length play, having directed 24 Hours to Curtain and co-directed Famous for Fifteen Minutes, written by Owain Johnson Barnes with Laura Bardgett," she told Bernews.
"I am thrilled to be working with such an amazing cast and crew. I shared with everyone my vision and have been so overwhelmed with watching it grow into something truly amazing.
"There are several firsts taking place with this show. My debut, working with my sister Kim McCallan on promotions for the show, Suzann Roberts-Holshouser appearing on stage for the first time with her son Owain Johnston-Barnes and her son Dylan Holshouser assisting with painting the set under the guidance of Michelle Pasquin, several new actors appearing on stage and some amazing lighting, sound and special effects being created by Ryan Day."
"BMDS offers an array of opportunities for anyone who is looking to get involved in the theatre whether on stage, back stage, painting, technical or simply volunteering for events that take place for the membership and public. Membership is open to all and is a great place to volunteer and learn what takes place in a theatre. If anyone is interested they can stop by, take a tour and fill in a membership form."
The show runs from April 17 to April 27 at the Daylesford Theatre at the Bermuda Musical & Dramatic Society in Hamilton. The tickets are available for $35 at ptix.bm and at the Daylesford Theatre Box office one hour before performances during show nights.
Read More About
Category: All, Entertainment