Laurie Smith and Muriel Williams are Occupational Health Nurses at Bermuda Hospitals Board [BHB]. They work to create a culture of health and safety for all BHB employees.
A spokesperson said, "They are among the first staff new employees meet as they conduct the pre-employment health assessments. During these appointments their aim is to convey a welcoming feeling while setting the standard for the quality of care staff will receive from Employee Health Services [EHS].
"The pair are responsible for treating all BHB staff for work related illness and injury. Their care covers all aspects of an employee's health – physical, emotional, financial, social and occupational. Often they also have to treat employees for non-work related health matters providing guidance on resources that can best assist affected staff with improving their health outcomes.
Laurie Smith and Muriel Williams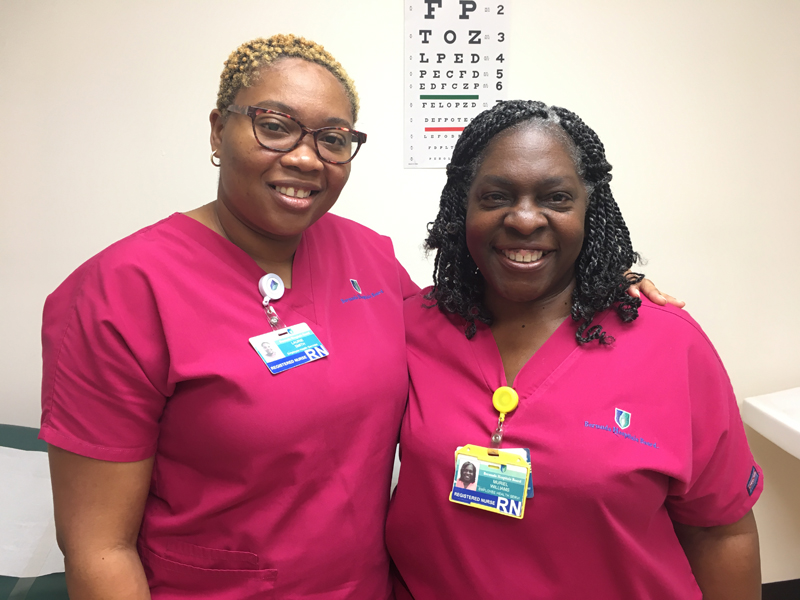 "Ms Smith and Ms Williams are advocates for the health and safety of BHB employees and often liaise with managers and external agencies like the Department of Health.
"In addition to serving BHB's more than 1,700 employees, Ms Smith and Ms Williams also provide occupational health services to external companies. These companies send their employees to EHS for services such as drug screening and respiratory fit testing.
"Not everyone is aware of the unique responsibilities of occupational health nurses. From case management to health counseling to the oversight of legal and regulatorycompliance, these nurses help to improve employees' health and a BHB's bottom line.
"Businesses count on occupational health nurses to protect their workers' health which in turn helpsto reduce absenteeism, lower turnover rates, improve employee morale, increase productivity, and create a positive brand image.
"Occupational health nurses are recognised leaders in workplace health and safety. Their prominent position allows them to:
collaborate with employees to develop healthy lifestyle and behaviours,
set expectations for employees to self-manage their physical, mental and emotional health,
serve as health advocates and experts to internal and external groups
manage occupational injury/illness leading to reduced time away from work and cost savings
create a culture of health and safety to ensure a supportive environment where everyone can do their best work."
The American Association of Occupational Health Professionals celebrates Occupational Health Nurse Week 15-19 April.

Read More About