[Written by Don Burgess] Bermuda's road to Gold Cup glory will start in Central America when the Gombey Warriors take on Haiti on June 16.
Bermuda will also face Costa Rica on June 20 in Texas, and Nicaragua on June 24 in Harrison, New Jersey as a part of Group B.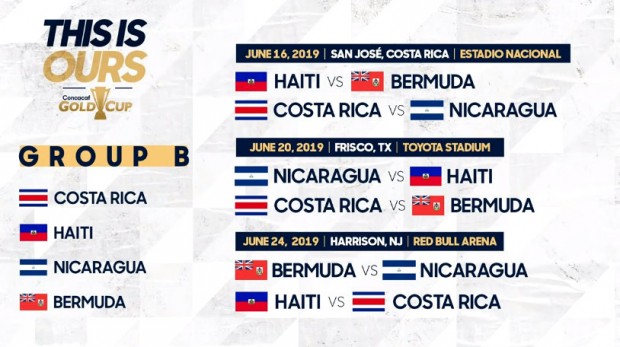 Head coach Kyle Lightbourne, who was there for the live draw in Los Angeles, California this evening, was brought on stage with the three other Group B coaches and said: "This is a fantastic opportunity for our country. We're delighted to be in this competition. I think we're going to embrace it and enjoy ourselves."
Lightbourne said Bermuda making its debut at the Gold Cup was something the players worked hard for to achieve and was looking forward to the competition.
"We're going to have our challenges along the way, but we will definitely come through it on the other end."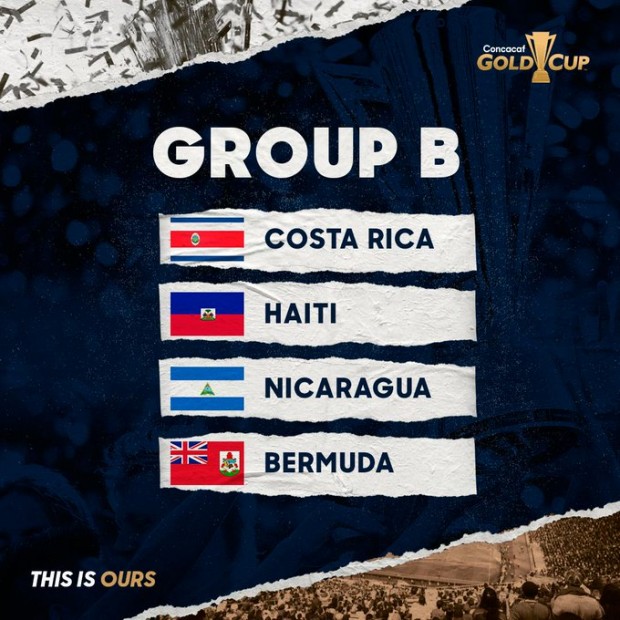 Bermuda's team qualified following an outstanding showing in the qualifying round, which saw them win three of four games, recording a 3 – 1 win over the Dominican Republic, a 1-0 victory over El Salvador, a 12 – 0 hammering of Sint Maarten, with their only loss taking place against Aruba, where they went down 3 – 1.
2019 Concacaf Gold Cup Match Schedule | Local time & order of matches subject to change
Saturday, June 15 – Rose Bowl, Pasadena, CA (Group A)
4:30 pm Canada v Martinique
6:30 pm Mexico v Cuba
Sunday, June 16 – Estadio Nacional, San José, Costa Rica (Group B)
4:00 pm Haiti v Bermuda
6:00 pm Costa Rica v Nicaragua
Monday, June 17 – Independence Park, Kingston, Jamaica (Group C)
6:00 pm Curaçao v El Salvador
8:00 pm Jamaica v Honduras
Tuesday, June 18 – Allianz Field, St. Paul, MN (Group D)
6:30 pm Panama v Trinidad and Tobago
8:30 pm USA v Guyana
Wednesday, June 19 – Broncos Stadium at Mile High, Denver, CO (Group A)
6:00 pm Cuba v Martinique
8:00 pm Mexico v Canada
Thursday, June 20 – Toyota Stadium, Frisco, TX (Group B)
6:00 pm Nicaragua v Haiti
8:00 pm Costa Rica v Bermuda
Friday, June 21 – BBVA Compass Stadium, Houston, TX (Group C)
6:00 pm El Salvador v Jamaica
8:00 pm Honduras v Curaçao
Saturday, June 22 – FirstEnergy Stadium, Cleveland, OH (Group D)
5:30 pm Guyana v Panama
7:30 pm USA v Trinidad and Tobago
Sunday, June 23 – Bank of America Stadium, Charlotte, NC (Group A)
6:00 pm Canada v Cuba
8:00 pm Martinique v Mexico
Monday, June 24 – Red Bull Arena, Harrison, NJ (Group B)
6:30 pm Bermuda v Nicaragua
8:30 pm Haiti v Costa Rica
Tuesday, June 25 – Banc of California Stadium, Los Angeles, CA (Group C)
5:00 pm Jamaica v Curaçao
7:00 pm Honduras v El Salvador
Wednesday, June 26 – Children's Mercy Park, Kansas City, KS (Group D)
5:30 pm Trinidad and Tobago v Guyana
7:30 pm Panama v USA
Saturday, June 29 – NRG Stadium, Houston, TX
6:00 pm QF1: 1B v 2A
8:30 pm QF2: 1A v 2B
Sunday, June 30 – Lincoln Financial Field, Philadelphia, PA
5:30 pm QF3: 1C v 2D
8:00 pm QF4: 1D v 2C
Tuesday, July 2 – State Farm Stadium, Glendale, AZ
7:00 pm SF1: Winner QF1 v Winner QF2
Wednesday, July 3 – Nissan Stadium, Nashville, TN
8:00 pm SF2: Winner QF3 v Winner QF4
Sunday, July 7– Soldier Field, Chicago, IL
8:00 pm F: Winner SF1 vs Winner SF2

Read More About