"Falling in love with old music is beautiful," says the organizer of an event dubbed 'An Evening with Otis Redding III,' which is set to take place on Thursday, April 18 at the Earl Cameron Theatre.
A spokesperson said, "Redding Jr, an iconic southern soul performer and producer, was well known for songs such as These Arms of Mine and Try a Little Tenderness. But it was his hit Sittin' on the Dock of the Bay that flew to the top of the charts a month after he was tragically killed in a plane crash on December 10, 1967. Redding was 26 years old.
"Redding's son, Otis Redding III, was only a child when his father was killed and has dedicated his life to carrying on his father's memory by performing his songs and sharing the soulful genre with new audiences."
"Redding's earlier years in music were influenced by funk and new soul music, and along with his brother, he found success with a record deal with CBS records and PolyGram. Following a number of album releases, Redding said, "It was time to re-define my approach to live music. That's when I learned to appreciate soul music."
"His father's music has touched his life in many ways. He states, 'carrying on the legacy is a priority, but not by singing his music only, participation with my family is the key to that.' The family also have the Otis Redding Foundation and host a summer camp for kids in songwriting. Redding is looking forward to performing in Bermuda and grooving to great music from the past with the awesome Wallstreet Band.
"Danilee Trott, COO of Savvy Entertainment, believes that Otis Redding's music captured a spirit of love during a musical era where words to a song really meant something and brought people together, and his son will be bringing this soulful music back to life. Savvy encourages everyone to come out and enjoy some good old school soul music."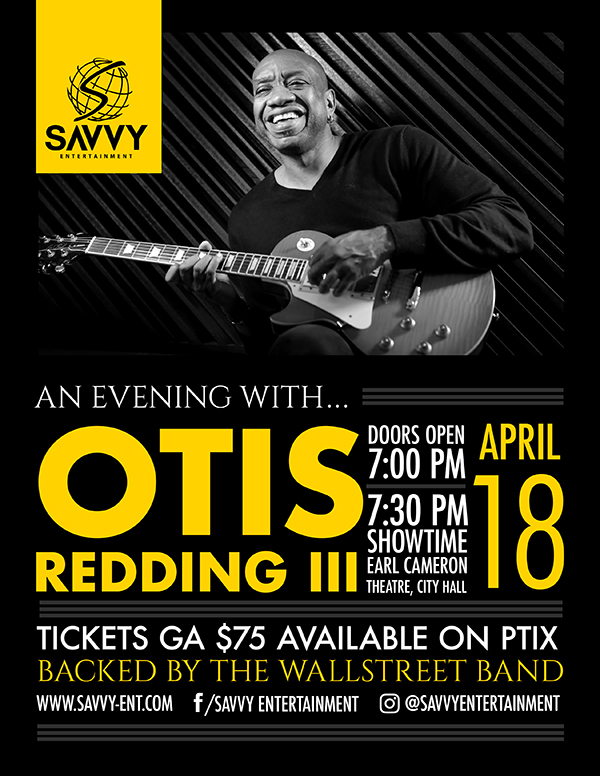 "Redding will be backed by Bermuda's own Wallstreet Band and the audience will also be treated to a number of talented Bermudian entertainers, including vocalist Olivia Hamilton, Vance Goater and Sounds of Sweetness.
"It all takes place at the Earl Cameron Theatre, City Hall on April 18. Doors open at 7pm and showtime is at 7:30pm. Tickets are $75 available on www.ptix.bm
"For more information, please email director@savvy-ent.com or call 300-1335."

Read More About
Category: All, Entertainment, Music, News, Videos