At the ribbon cutting ceremony of the Hamilton Visitor Services Centre [VSC], officials heralded the completed project's delivery of National Tourism Plan strategies—particularly the goal to increase visitor spending.
"Local businesses stand to benefit because the island-wide network of visitor centres makes the offerings of tourism entrepreneurs easily bookable at the VSC, with the help of staff trained to recommend experiences based on the consumer's desires. Overall, the National Tourism Plan aims to grow tourism's contribution to GDP to $1.2 billion annually," the BTA said.
"The official opening of the Hamilton Visitor Services Centre marks the end of a multiyear process to align all visitor services under one management team and one strategic mission," said Kevin Dallas, Bermuda Tourism Authority chief executive officer.
"Now when a visitor seeks services in Hamilton, Dockyard or St George they can be assured accurate information that is reliable, seasonally relevant and easy to book—all of it delivered by a high-quality team of Bermudians who are Certified Tourism Ambassadors. We expect these strategic enhancements will lead to increased visitor spending."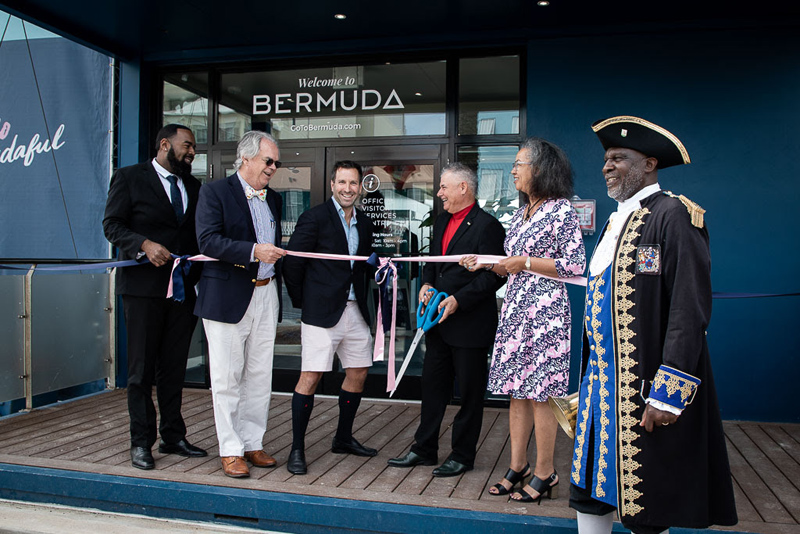 A new Visitor Services Centre officially opened last week on Duke of York Street in St. George. The revamped Dockyard facility opened a year ago. All three are managed by a Bermuda Visitor Services Centre, Ltd., a Bermuda Tourism Authority subsidiary.
The BTA added, "Meantime, the new structure on Hamilton's waterfront checks the box on three of the seven strategic pillars in the country's National Tourism Plan: Innovation, Infrastructure and Local Involvement.
Innovation: Experience booking in the Hamilton Visitor Services Centre is modern day, an aspect that benefits tourism entrepreneurs around the island because their offerings will be easily accessible to consumers through advanced technology. Online bookable, credit card payment, touch screen usability – these are features younger visitors increasingly expect.
Infrastructure: Around the world visitor destinations leverage their harbours to excite visitors year-round and stimulate spending. That is the goal of the Hamilton Visitor Services Centre. And importantly, the facility is fully accessible for visitors who are differently abled and for families with strollers. Both audiences are expected to grow. The VSC is built with that in mind.
Local Involvement: The Hamilton facility provides Front Street concession opportunities to local entrepreneurs who might otherwise find this high-profile visitor location unattainable. Additionally, new job opportunities on the front line of hospitality were created with this project; each staff person is a Certified Tourism Ambassador.
Minister of Tourism and Transport Zane DeSilva said: "The opening of these VSCs is of the upmost importance to Bermuda, as it provides centralised locations in the most popular tourist areas for our visitors to discover all that is on offer and make purchases or reservations with the touch of a button. This personalisation and ability to connect with local vendors will drive greater visitor spending."
The Hamilton Visitor Services Centre at 10 Front Street is open Monday to Saturday from 10am to 4pm daily. It is open until 8pm during Hamilton's Harbour Nights.

Read More About