MTM hosted their annual Red Ball Championships on Sunday, with 40 children from all over the island competing in the event.
"Red ball is a great way for players to start out in tennis and is for younger players. It is played on smaller courts with shorter rackets and softer balls," Gavin Manders explained.
"It's just like the real game and gives players opportunities to have long rallies and play different types of shots. The ball is 75% slower than a yellow ball, which has been developed to make it easier for beginner and recreational children and adult players learn the game, and thus enhance their enjoyment of tennis.
"The main goal of the MTM Movement is grow the game of tennis in Bermuda, from the grass roots and elite junior levels so that there is bigger crop of players for the future.
"This event truly showed that the game is growing, and now it's our jobs to keep the children involved in the game for as long as we can so that they have the opportunity to develop. Modifying the balls and equipment makes it more fun for the children, as they can be more successful at an earlier age, which increases the chances of them staying in the game long term."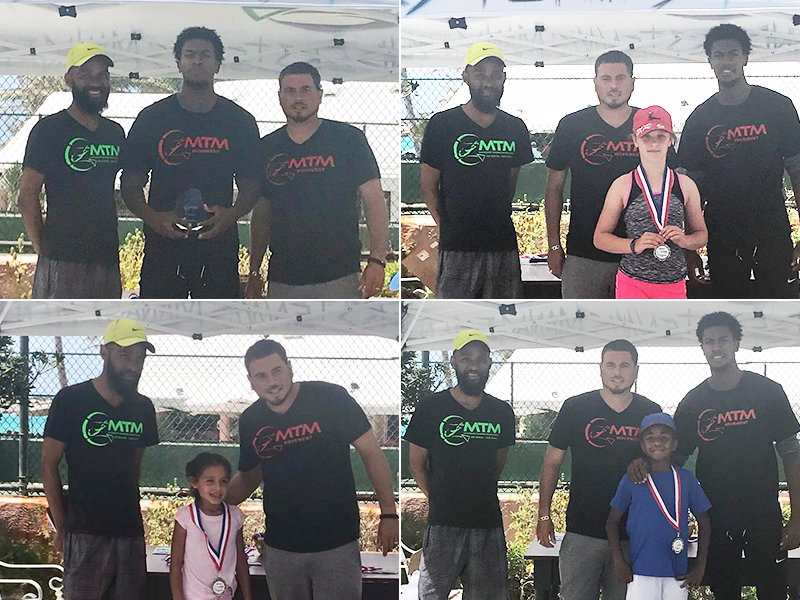 "We had top local juniors who were helping umpire the games, so that the children got to interact and meet Bermuda's best, and hopefully get inspired. It's also a great teaching tool for our top juniors to interact and learn how to give back to the generation under them, so we can truly help build a development plan that can sustain itself long term.
"The pictures from the day tell the full story, with children of all colors, from all different parts of the island, having fun together while learning life lessons that can help mold their character for the future. We couldn't be happier, and more thankful to all the clubs, and coaches that helped make the event a huge success. Fairmont Southampton Tennis club is the place, and MTM is the Movement."
Jovan Jordan-Whitter added, "An early introduction to competition, in a safe and friendly environment can help to speed up the learning curve for our future tennis stars. We want them to associate fun and competition with tennis as soon as we can. I think we did a good job of that this weekend."
10U Division
Girls
Winner – Jemma Konyecski
Runner-Up – Avani Patton
3rd Place – Nadhira Durham
Boys
Winner – Jaden Jones
Runner-Up – Cyre Trott
3rd Place – Tobiah Goodchild
8U Division
Girls
Winner – Samantha Morgan
Runner-Up – Gwennan Mathews
3rd Place – Ajana Patton
Boys
Winner – Jude Lefebrve
Runner-Up – Amari Bean
3rd Place – Dexter Snaith
6U Division
Winner – Jaegar Snaith
Runner-Up – Bronnwen Mathews
3rd Place – Eva Wright
4th Place – Arianna Parra

Read More About