YouthVision Promotions will be joining school students in the west on Friday, May 3rd starting at 12.00pm for a walk of peace in the community.
A spokesperson said, "Next week Friday May 3, Somerset Primary School, West End Primary School, Sandys Secondary Middle School and the TNTatem Middle School students located at Sandys Secondary Middle School will be collectively marching in unity to promote the anti-violence message.
"Altogether, there will be approximately 500 students, faculty and staff members who will be participating in next week's walk. The walk will start and finish at Sandy's Secondary Middle School [we are in final talks with Somerset CC to see if we can finish up there].
"The purpose of the walk is to uitlise our young peoples voices to promote the anti-violence message. Every adult, every gangster, every convict was once a child and can respect the voice of the youth .. We will continue to promote the message to 'Live in Peace'..
Schedule:
12:00 p.m. Leave Sandys Secondary Middle School [SSMS]
12:15 p.m. Pick up West End Primary
12:30 p.m. Pick up Somerset Primary
12:45 p.m. Arrive at SSMS or Somerset CC
12:45 p.m. – 1:00 p.m. Lunch / prepare for speeches
1:00 p.m. – 1:20 p.m. Speeches / entertainment
1:20 p.m. – 1:30 p.m. Clean up / Leave venue
Speakers include: Open Heart Foundation, Desmond Crockwell, Antonio Belvedere, and Lynwood 'Brotha Richie' Richardson.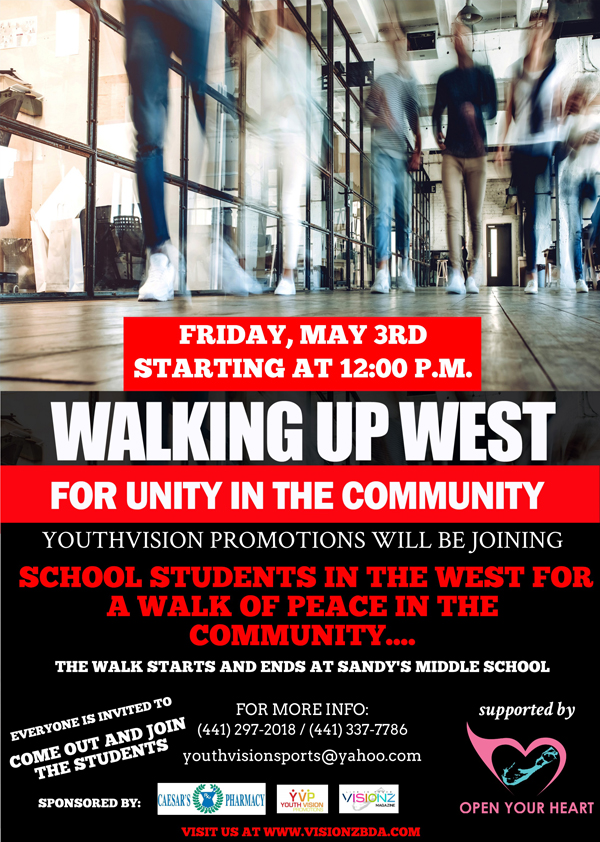 Read More About
Category: All