A massive logistics ship has been loaded with Royal Bermuda Regiment trucks and equipment headed for a major disaster relief exercise in the Caribbean.
The Royal Fleet Auxiliary ship Mounts Bay will transport the RBR gear to the Dominican Republic and on to St Vincent & the Grenadines for the multinational disaster training Exercise Tradewinds, to be carried out over May and June.
Mounts Bay will also act as the hurricane relief ship and carry out drug interdiction patrols in the Caribbean region and Bermuda over the hurricane season, which runs from June to the end of November.
Captain Gordon Emmerson, who joined the ship as RBR liaison officer for the exercise, said: "I'm very excited about it. I'm nervous about sea sickness, but I'm looking forward to linking up with the crew on the ship and learning about how they transport different types of cargo."
Lieutenant Colonel David Curley, Lieutenant Lee Holborn RN and Captain Gordon Emmerson with RFA Mounts Bay's Wildcat helicopter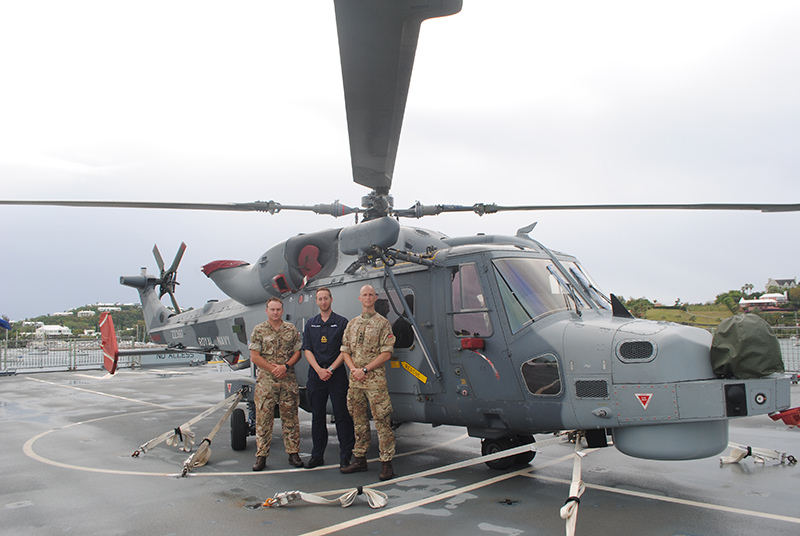 He added he would take part in training exercises with the crew and 24 Commando Royal Engineers, who spent a week training with the RBR before they joined the ship after it docked in Hamilton Harbour.
Royal Navy Lieutenant Lee Holborn, a Wildcat helicopter pilot from the Fleet Air Arm's 815 Squadron attached to Mounts Bay, said: "This is my first encounter with the RBR, but should the worst happen and we find ourselves coming back here later in the year, we are really set up.
The 32-year-old, from Wiltshire, added: "We know their plans and how we would fit into them."
Lieutenant Colonel David Curley, the RBR's Commanding Officer, visited the ship on Wednesday, just before it headed for the Dominican Republic, to brief to RFA and Royal Navy personnel on board.
One of the ships own powerful tractors is reloaded on board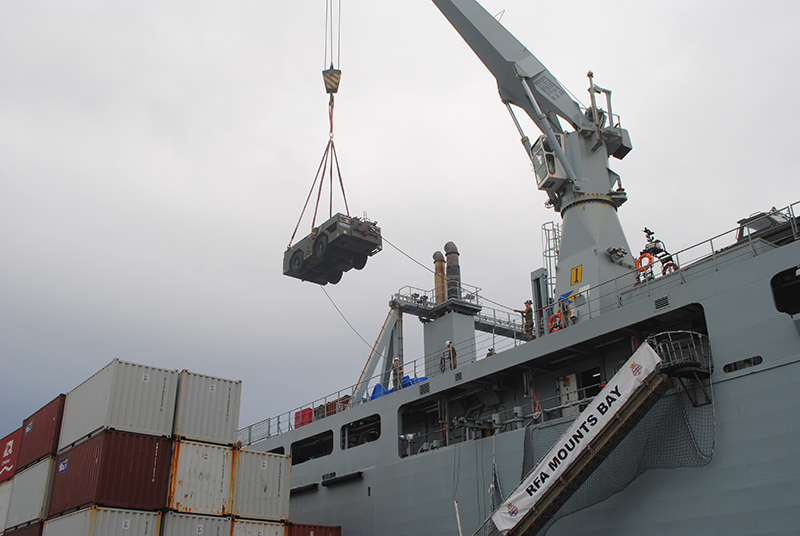 He said: "We have achieved everything that we wanted to do in equipment preparation and training for the exercise.
"I gave an intelligence safety brief to the helicopter pilots on hard and soft landing sites around the island. In the nrrd arises.
"I also wanted to make sure our standard operating procedures were up to date for ground troops supervising helicopter landings. "
Col. Curley added: "It's a very impressive ship and it has tons of humanitarian aid and disaster relief equipment on board and equipped with its own powered floating dock. It's ideal for dealing with emergencies and using beaches as well as normal dock facilities.
A Regiment troop carrier is loaded into the massive cargo bay on the RFA ship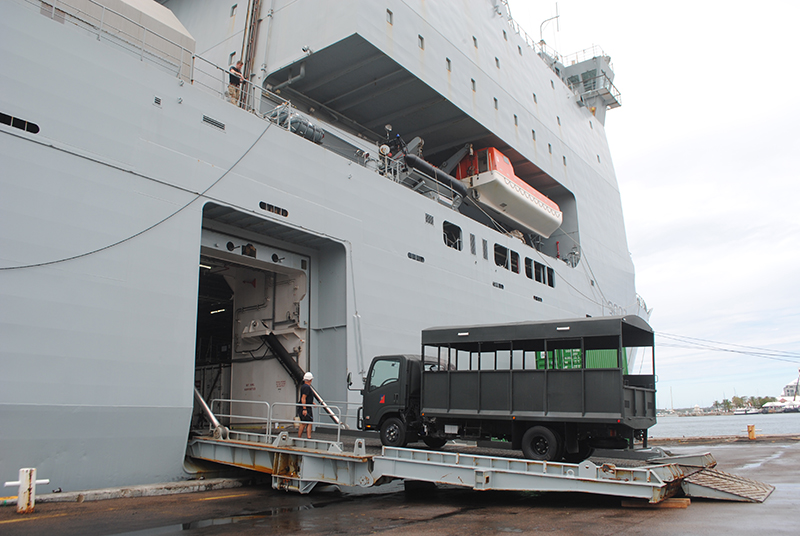 "And whenever we have to do an operation together, we have already been introduced and will be able to integrate seamlessly."
He said: "I wish Captain Jeremy Macanley , his entire crew and Captain Emmerson well for their deployment.
"Captain Emmerson will be attached to Mounts Bay for five weeks and he will be met by RBR troops on the second part of Tradewinds in St Vincent & the Grenadines."

Read More About