North Village Community Club Board of Directors said they are "excited" to have Kenny Thompson rejoin their team as Director of Football and Senior Coach of the North Village Premier Team.
North Village Community Club President Shervin Dill said, "On behalf of the North Village Community Club Board of Directors, we are delighted and excited to have Kenny Thompson rejoin our team as our Director of Football and Senior Coach of the North Village Premier Team.
"We call this Vision 2.0. As you may know Kenny held a similar position with North Village Community Club from 1997 – 2002, in which he was responsible for the restructure and upgrade of our entire football program, from the grassroots through to our senior Premier Team Football programs. We experienced a high level of success in all areas with Kenny and our team of coaches during his last tenure with North Village Community Club and we are looking forward to raising our levels of standards, development and competitiveness throughout.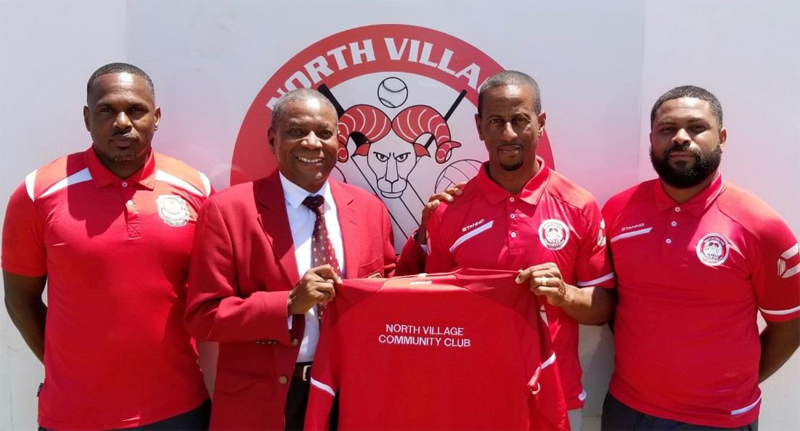 "We take this opportunity to thank Coach Randy Spence for the very courageous job during the 2018/2019 season as Head Coach, particularly under challenging conditions. He will be taking on the position of Assistant Coach during the 2019/2020 season.
"We would also like to thank our current Youth Technical Direction, Marlon Dill and youth coaching staff for the great work of strengthening our youth program last season. As a united team, they will be under the mentorship and direction of the new Director of Football for their continuous education and certification.
"North Village Community Club welcomes Kenny Thompson back to the club and are looking forward to working with him for the upcoming seasons. We are excited and anxious to get started."
North Village Community Club Director of Football Kenny Thompson said, "It's with great pride and joy as I give thanks to the Executive and Management of the North Village Community Club for the opportunity to return as Football Director of the North Village Community Club.
"This club have a special place for me having played my last full season here as a player during the 1989/1990 season before embarking on a coaching and management career. During that season, I felt the warmness of the North Village community that ensures our lifelong connection.
"In 1997 I was appointed Football Director of North Village and held the position before transitioning to the role of Youth Director of the Bermuda Football Association in 2002. During that period, we developed and built a youth program that has since changed the landscape for youth football in Bermuda and led to a sustained period of dominance for the club in senior football soon after.
"With much of the structure of that time still in place my return to North Village is aimed at enhancing a program that is organized, consistent and both challenging and fun for ambitious and recreational players alike. This enhancement of the program built on all of our personal improvements over the years has us seeing the program as Vision 2.0.
"As was the case in 1997, while directing and managing the youth program, I'll also be responsible for coaching the North Village Premier Division team as well, a role I am looking forward to with excitement to share experiences with the players as well as in mentoring my good friend Randy Spence whom I coached during the same role I previously held with North Village.
"A major part of the program is to manage the coaching team at North Village which is designed to raise the standards of the technical instruction that the players receive which benefits the expectations and enjoyment of the coaches and, most importantly, all of the players of the program.
"The North Village family can expect a first-class program that behaves with professional standards. We know that football has tremendous appeal and power and is highly influential in the lives of everyone involved.
"We aim to build a program where we can share excitement with players and fans through a well-rounded quality program that is challenging and encouraging. A program that upholds its responsibility to provide qualified coach and management support for effective guidance for players and everyone associated with the club based on positive on and off the field values.
"My discussions with the Executive and Management team of the North Village Community Club have been detailed and I am excited by the vision and ambition of everyone associated with the club and I am both proud and happy to join this great club with its great legacy of success on and off of the field."

Read More About