EY recently sponsored and participated in the 15th Annual Bermuda Captive Conference at the Fairmont Southampton.
The conference attracted over 800 delegates and included captive insurance owners, risk managers, in addition to audit, legal, banking and support service providers; and provides a forum for promotion, support and growth of the Bermuda's world-leading captive insurance industry.
EY Tax Senior Manager and Americas Captive Insurance Services Deputy Leader, Mikhail Raybshteyn, spoke on a panel during the conference about international tax developments and issues facing captives.
With more than 15 years of experience in the insurance sector, he provided insight and commentary on the ongoing development in the international tax are effecting captives and joined his co-panelists in commenting on other pressing matters within the captive insurance industry, both onshore and offshore.
EY Senior Manager Mikhail Raybshteyn, EY Senior Partner and Regional Insurance Leader David Brown, EY Partner Philip Burrill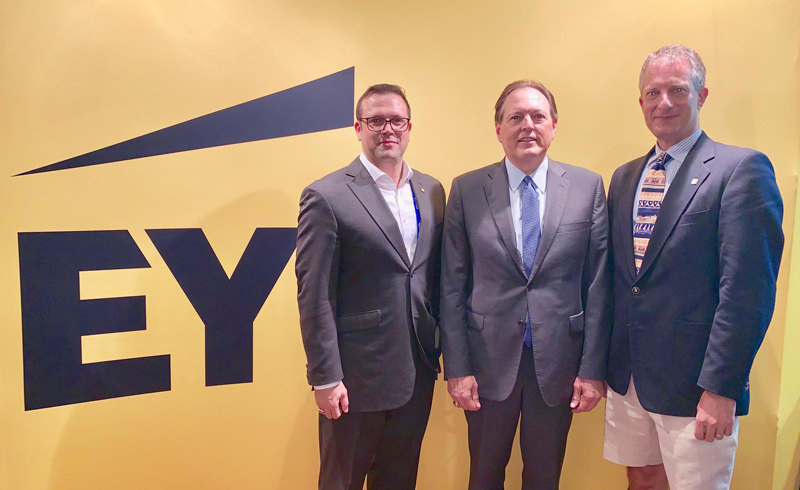 "It was a pleasure speaking at the Bermuda Captive Conference about tax developments and certain regulatory matters and the impact of such on captive insurance companies," Raybshteyn said.
"Organizations should ensure they are managing their tax obligations and think through tax structures and market opportunities in a way that lays a foundation for pragmatic and sustainable long-term growth."
EY has established a global captive market network of integrated and connected insurance professionals dedicated to helping captives navigate the complexities of global legislation and regulation, alignment of tax strategy with business goals among other services.
The newly launched EY Global Captive Network offers more information around captive market needs, including materials and articles around restructuring, feasibility, effectiveness and establishment.
"With the ever-changing and emerging risks of companies in our current business environment, the captive solution is more relevant than ever before," Philip Burrill, Partner and EY Bermuda Captive Insurance leader, said.
"We are proud to continue our sponsorship of the Bermuda Captive Conference. The robustness and innovation of the Bermuda market continues to grow from strength to strength and clearly makes Bermuda a domicile of choice."
Read More About