Two different football camps are set to be held in July, including the EPL Summer Soccer Camp from Monday, July 1 to Friday, July 5, and the Salford City Open Trials from Monday, July 1 to Thursday, July 4 at the Clyde Best Centre of Excellence.
A spokesperson said, "We are delighted to announce that after the resounding success of last year's EPL Summer Camp, we shall return to Bermuda in July 2019 for two different camps.
"We are proud to continue with our EPL Summer Soccer Camps [ages 8-15 years] as well as teaming up with EFL2 professional team Salford City [part owned by David Beckham] to offer our Salford City Open Trials [ages 16+] where the aim is to offer at least two players the opportunity to trial with Salford City."
EPL Soccer Camp Details:
Dates: July 1-5, 2019
Time: 9.00-12.00pm
Venue: Clyde Best Centre of Excellence
Cost: $250
Other: There will be an early drop off service from 8.00am each day which will be $10 per child per day. In addition, an after camp service run in conjunction with local teachers will offer a multi sports/activities service from 12.00pm to 5.00pm to accommodate working families. This will be an additional cost and will be confirmed by the teachers once interest in this service has been registered. If you are interested in this service, please email us at info@iconzexperience.co.uk and we will pass your details over ASAP.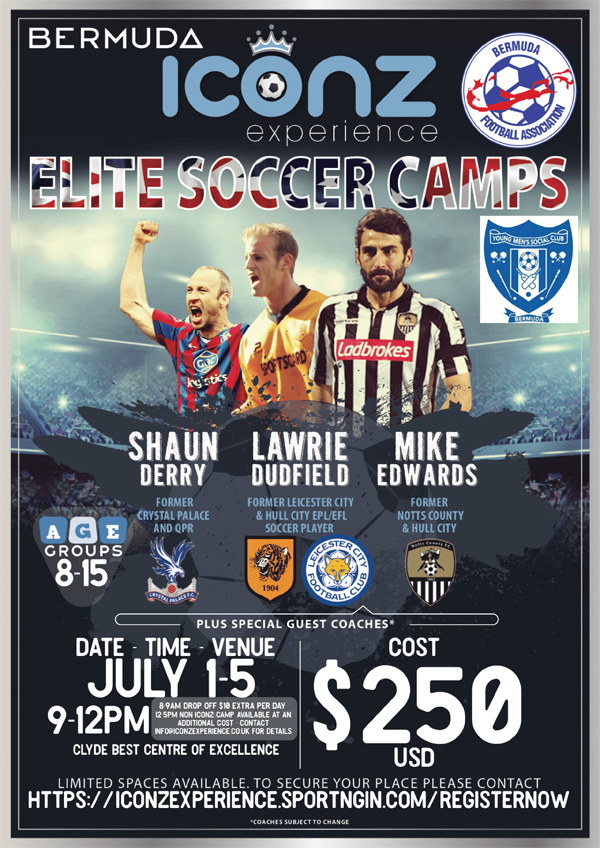 Salford City Open Trials Details:
Dates: July 1-4, 2019 [July 1-3 Open Trials, July 4 Invitational Trial match for final 24 players]
Time: 6.00pm-8.00pm
Venue: Clyde Best Centre of Excellence
Cost: $250
Other: The two selected players will be invited to trial with Salford City [at a mutually agreeable date] with a view of them winning a place in the Salford City squad, subject to their performance [U18/23 to First Team, dependant on age]. Please note that Salford City will not be responsible for travel, accommodation or food costs.
Please also note that there will be a maximum of 50 players accepted on the tryouts so please book early to avoid disappointment.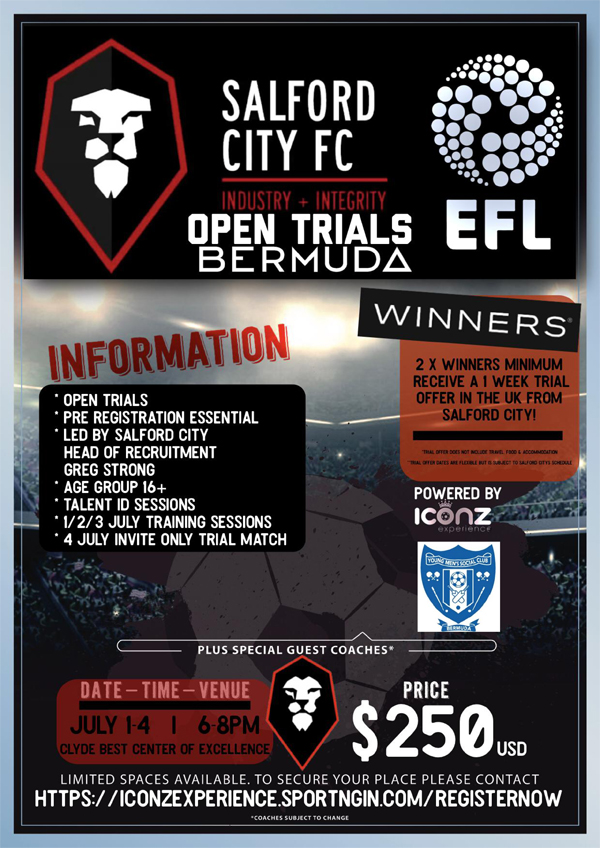 Read More About